A Road Less Traveled: National Security Careers After Law School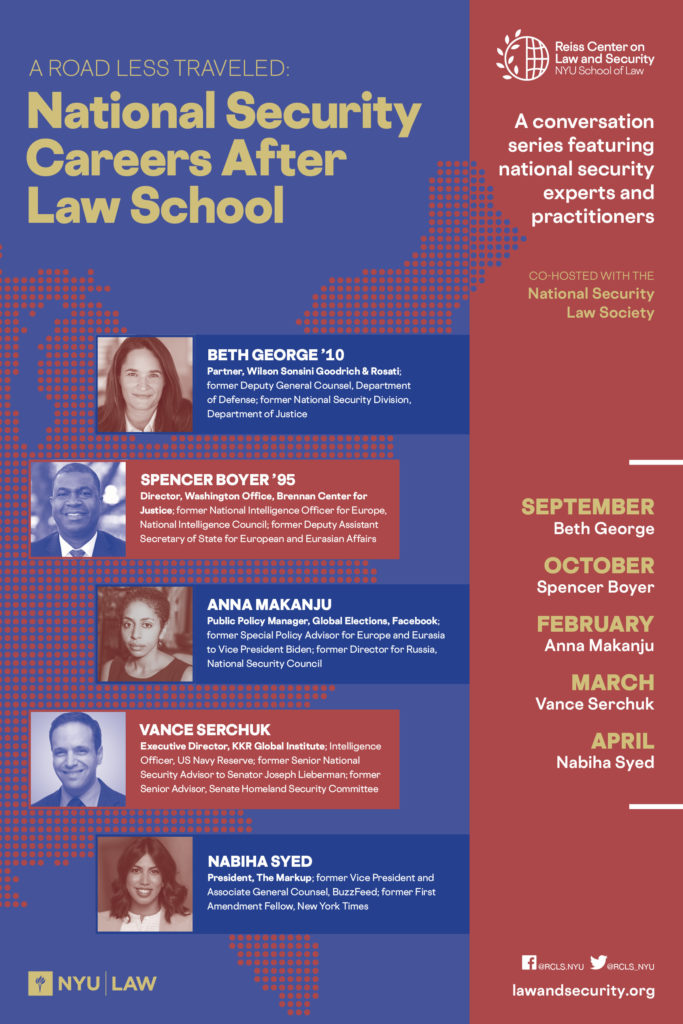 The Reiss Center on Law and Security, together with the students of the National Security Law Society, sponsors a series of career talks with national security law and policy practitioners in candid conversations about their paths after law school. Featured speakers hail from a diverse range of backgrounds—including government, advocacy, private sector, and/or scholarly work—and address both the details of their work as well as a broader view of their career trajectories. The series is an integral part of fulfilling the Reiss Center's mission to educate the next generation of national security leaders, demystifying and providing exposure to a diverse range of career experiences in this field.
2019-2020 Series
Beth George – September 24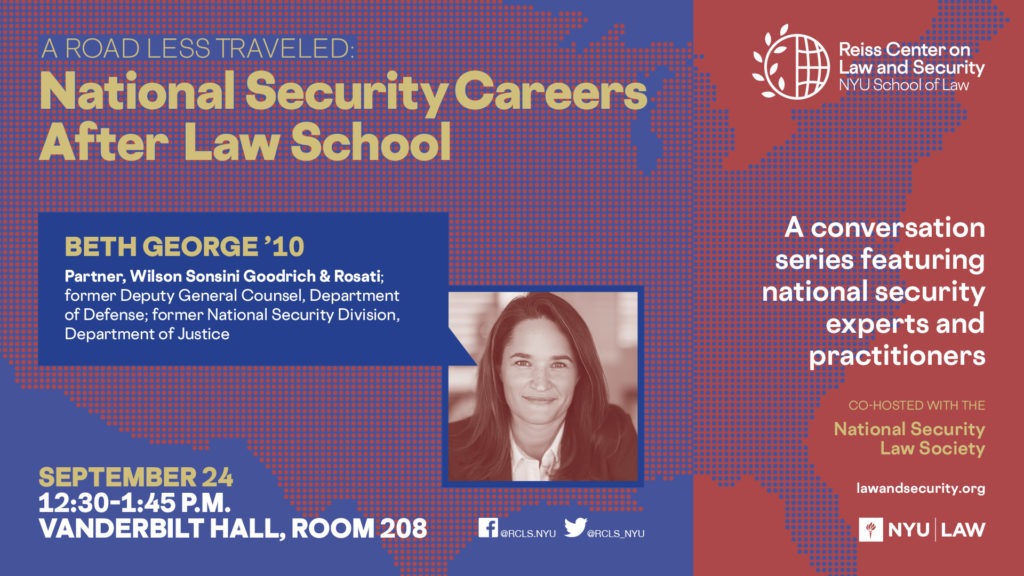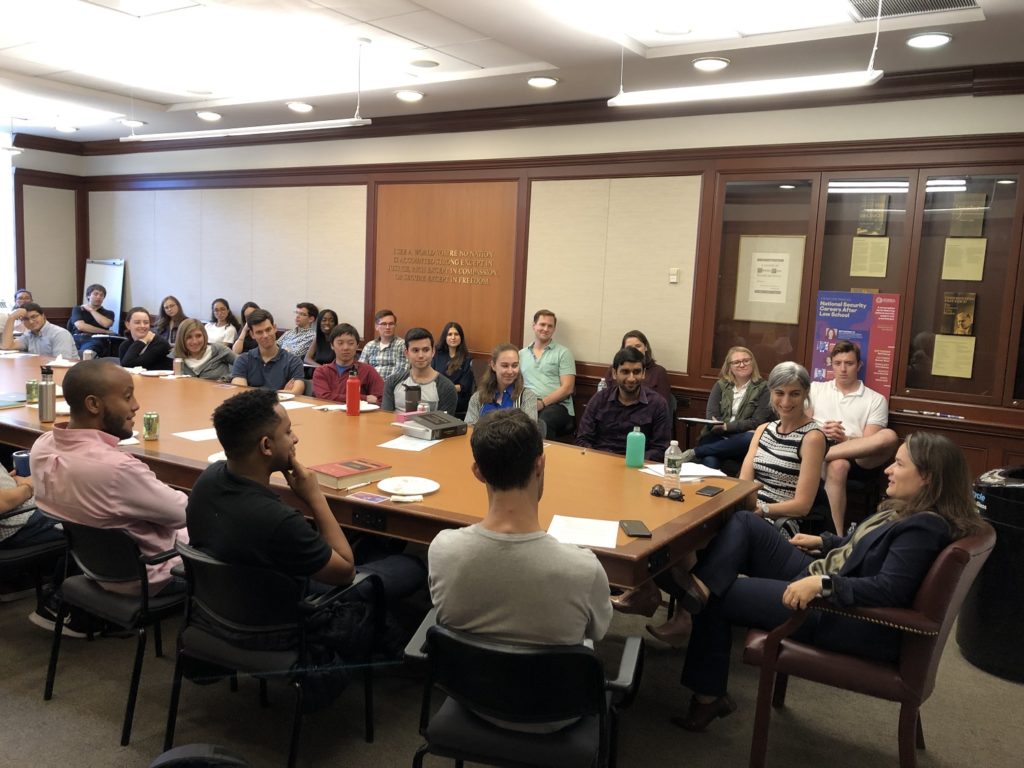 Beth George is a Non-Resident Senior Fellow at the Reiss Center on Law and Security at NYU School of Law and is a partner in the San Francisco office of Wilson Sonsini Goodrich & Rosati. Beth most recently served as the deputy general counsel (legislation) at the US Department of Defense under the Obama administration. In that role, she led an office of lawyers who provided legal advice and support to the Department, particularly the Office of the Secretary of Defense, in the areas of legislation and other congressional matters affecting the Department. Previously, Beth served as an associate counsel in the White House counsel's office, where she worked on national security matters. Beth joined the federal government as an honors attorney in the US Department of Justice's national security division. She first served as an attorney in the Office of Intelligence, where she worked on surveillance and operational matters. Later, she joined the Office of Law and Policy, where she worked on sensitive policy matters. George also served on detail to the Senate Select Committee on Intelligence, where she served as the sole legal counsel to a team of bipartisan professional staff members assigned to review intelligence collection activities.
Beth clerked for Chief Judge Theodore A. McKee on the Third Circuit Court of Appeals in Philadelphia, PA. She holds a JD, magna cum laude and Order of the Coif, from New York University School of Law, and a BA, summa cum laude, from New York University's Gallatin School of Individualized Study. You can follow her on Twitter @_Beth_George.
Spencer Boyer – October 29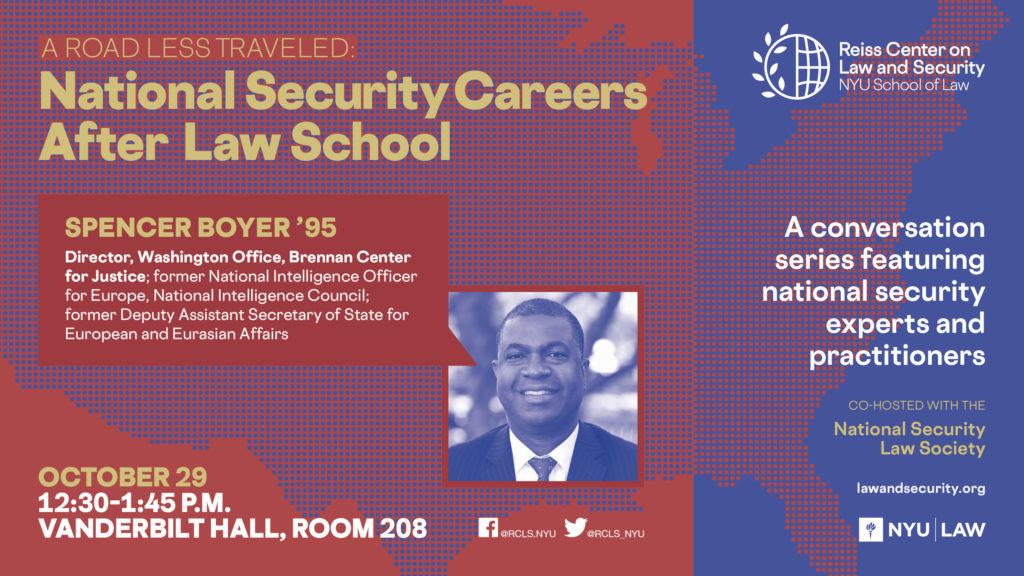 Spencer P. Boyer is the Director of the Washington Office of the Brennan Center for Justice at New York University School of Law. In this capacity, he represents the Brennan Center among policymakers and thought leaders throughout Washington; advances the Brennan Center's federal advocacy strategy on major democracy, justice, national security, and civil liberties issues; and oversees the operations of the DC Office.
He served in senior roles in both terms of the Obama administration. From 2014-17, he was the National Intelligence Officer for Europe in the National Intelligence Council—the center for long-range strategic thinking within the US Intelligence Community. From 2009-11, he was a Deputy Assistant Secretary of State for European and Eurasian Affairs. In both roles, he was a key adviser to top government officials on challenges to Western democracy and the intersection of national security and civil liberties post-9/11.
Spencer has served as Executive Director and War Powers Initiative Director at the Constitution Project, based at Georgetown University's Public Policy Institute. He has also been a senior analyst or visiting scholar with numerous think tanks. He began his professional career as an Associate with the international law firm of Jones, Day, Reavis & Pogue in Washington. Subsequently, he worked in The Hague as a Law Clerk to the President of the International Criminal Tribunal for the former Yugoslavia, in Zurich as a Staff Attorney at the Claims Resolution Tribunal for Dormant Accounts in Switzerland, and in Paris as Counsel at the International Court of Arbitration.
He is a graduate of Wesleyan University and received his JD from NYU School of Law, where he specialized in public international law and the work of international organizations. While at NYU, he also obtained a master's degree in French Studies, with a concentration in French politics, history, and economy.
Anna Makanju – February 11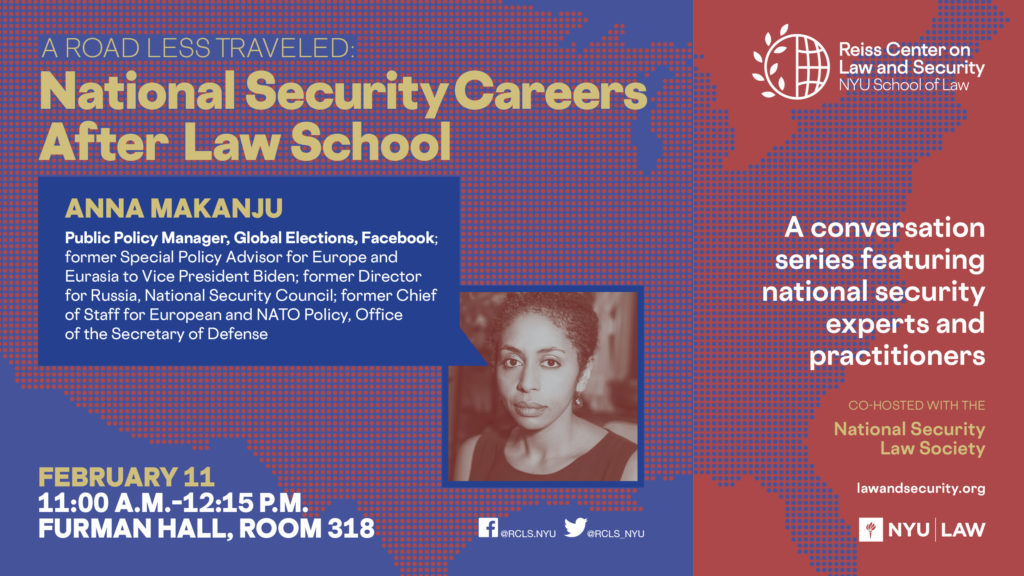 Anna Makanju is a public policy and legal expert working at Facebook, where she leads efforts to ensure election integrity on the platform. Previously, Anna was the Special Policy Advisor for Europe and Eurasia to Vice President Biden, Senior Policy Advisor to Ambassador Samantha Power at the United States Mission to the United Nations, Director for Russia at the National Security Council, and the Chief of Staff for European and NATO Policy in the Office of the Secretary of Defense. She has also taught at the Woodrow Wilson School at Princeton University and worked as a consultant to a leading company focused on space technologies.
Anna received her law degree from Stanford University, and her legal career was spent working at the International Criminal Court, the International Criminal Tribunal for the Former Yugoslavia, on the Third Circuit Court of Appeals as law clerk to Judge Theodore McKee, and in the international arbitration group of Cleary Gottlieb Steen and Hamilton LLP. Anna was born and spent her childhood in the Soviet Union before immigrating to the US.
Vance Serchuk – March 9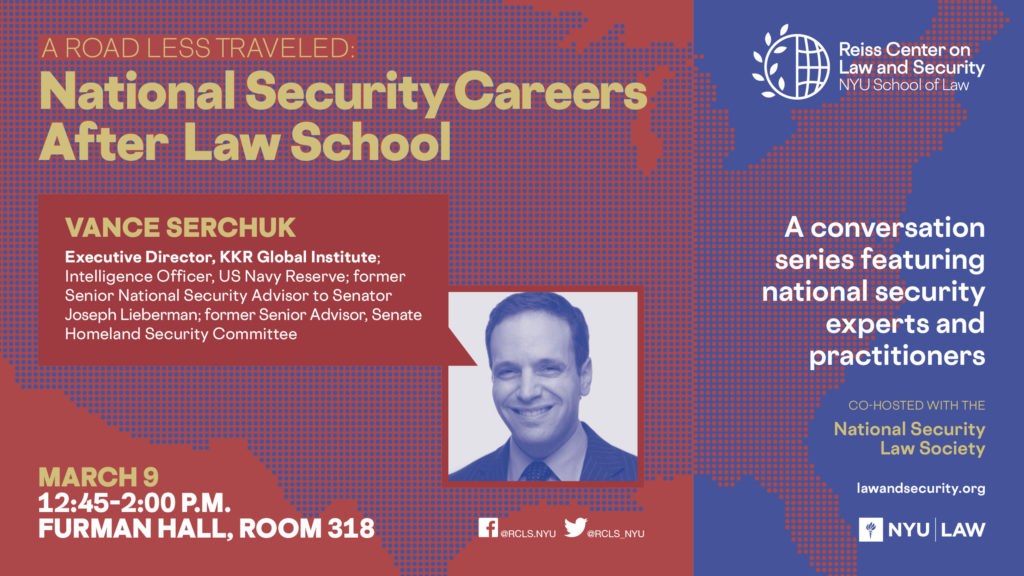 Vance Serchuk is the executive director of the KKR Global Institute, the geopolitical analysis unit of the global investment firm KKR. In this capacity, he works on KKR's investments in defense, aerospace, and emerging markets. Vance is also an adjunct senior fellow at the Center for a New American Security in Washington, DC. Prior to joining KKR in 2013, Vance served as the senior national security advisor to Senator Joseph Lieberman (I-Connecticut) and a professional staff member on the Senate Homeland Security Committee. In this capacity, he worked on a broad range of international security issues, including Iran and Russia sanctions, the wars in Iraq and Afghanistan, and Asia-Pacific strategy. In 2013, he lived in Japan as a Council on Foreign Relations Fellow and was a monthly columnist for the Washington Post. His writings have also appeared in the New York Times, Wall Street Journal, The Atlantic, National Review, and Politico.
Vance is a summa cum laude graduate of Princeton University, holds a JD from Yale Law School, and was a Fulbright scholar in the Russian Federation. He has served for the past 8 years as an intelligence officer in the US Navy Reserve, deploying overseas in support of Naval Special Warfare. He was recently named as a member of the congressionally-appointed Syria Study Group. Vance has also taught as a lecturer-in-law at Columbia Law School.
Nabiha Syed – April TBD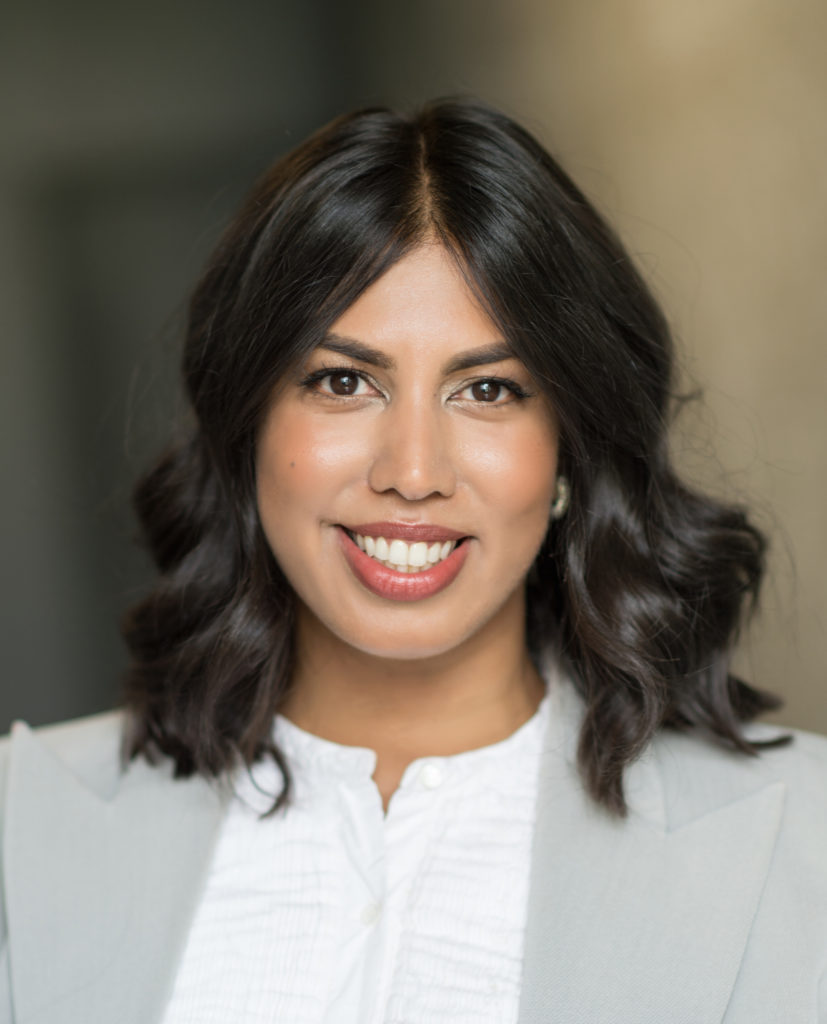 Nabiha Syed is the President of The Markup, a new investigative journalism publication illuminating how powerful institutions are using technology in ways that impact society.
Previously, she was Vice President and Associate General Counsel at BuzzFeed, where she oversaw litigation, including the "Steele Dossier" litigation, as well as select intellectual property, security, international, and cross-company strategic initiatives. Nabiha was also BuzzFeed's first newsroom lawyer, where she directed bet-the-company litigation and other high-risk decisionmaking. She has been described as "one of the best emerging free speech lawyers" by Forbes magazine.
Before BuzzFeed, Nabiha was an associate at Levine Sullivan Koch & Schulz, a leading media law firm, and the First Amendment Fellow at the New York Times. She has worked on legal access issues at Guantanamo Bay, Cuba; represented asylum-seekers in south Texas; counseled on whether to publish hacked materials; and spoken about misinformation at the inaugural Obama Foundation Summit. For her work, Nabiha was named a "40 Under 40 Rising Star" by the New York Law Journal in 2016, a finalist for the Outstanding Young Lawyer of the Year Award from the International Bar Association in 2017, and received an inaugural Reporter's Committee for the Freedom of the Press award in 2018. She holds a law degree from Yale Law School and from Balliol College, Oxford University, which she attended as a Marshall Scholar.
Nabiha values her board service, through which she has counseled on mergers, advised on the transition from for-profit to non-profit, and helped guide membership growth of legacy organizations. She also lectures at Columbia, and is a non-resident fellow of both Stanford Law School and Yale Law School.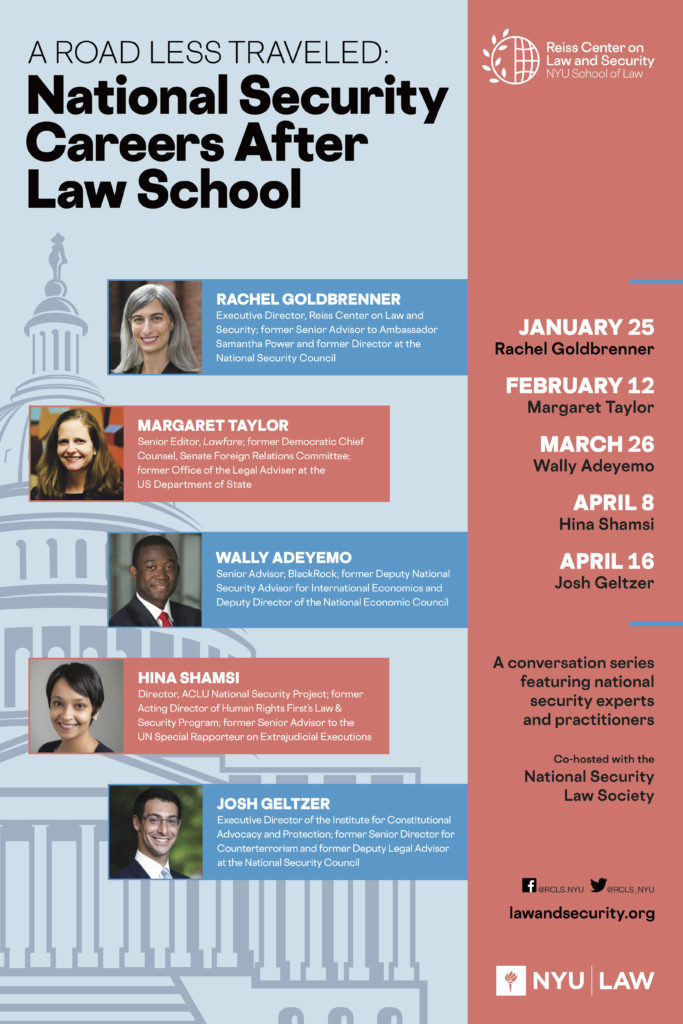 Josh Geltzer – April 16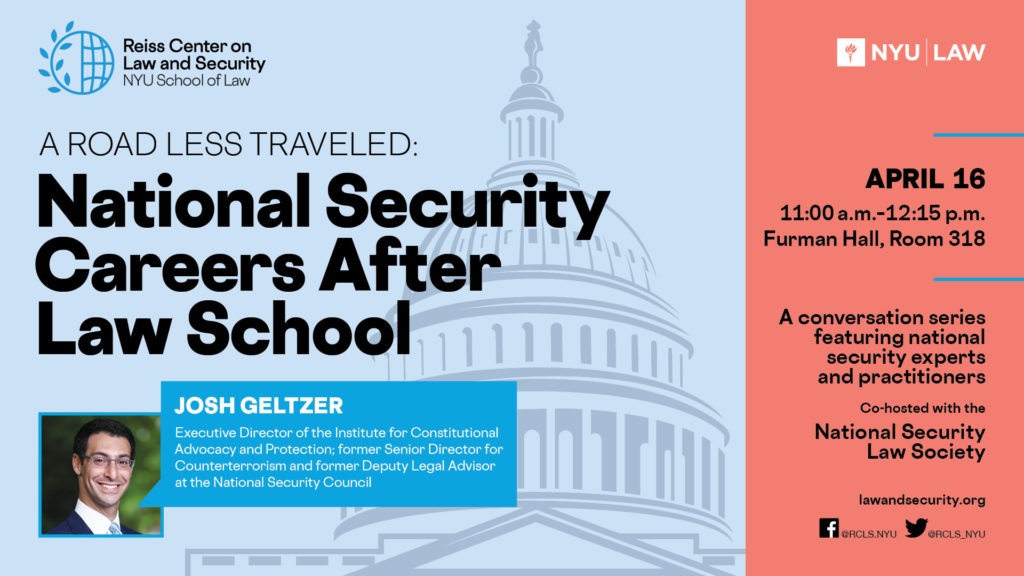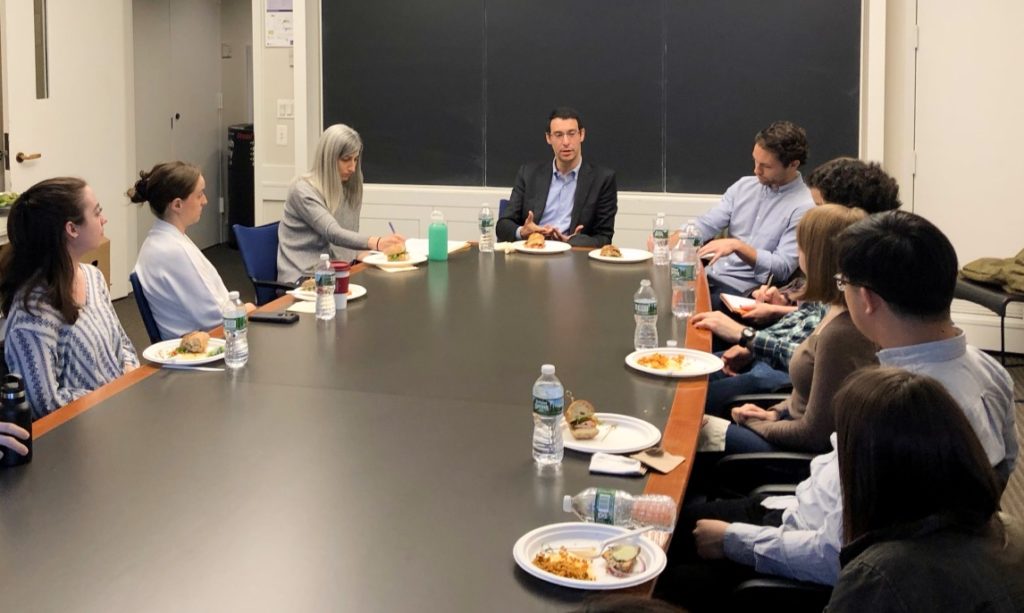 On Tuesday, April 16, the Reiss Center on Law and Security and the National Security Law Society hosted this semester's final session of A Road Less Traveled, our career series featuring national security law and policy practitioners. Students heard from Joshua Geltzer, Executive Director of the Institute for Constitutional Advocacy and Protection at Georgetown Law, which focuses on constitutional impact litigation and public education on everything from whistleblower protections to the travel ban to DACA.
Geltzer has had a wide-ranging career following law school: prior to his advocacy work at ICAP, Geltzer served in the Obama Administration as Senior Director for Counterterrorism at the National Security Council. He also served in government as a national security lawyer, including as Deputy Legal Advisor at the National Security Council and before that as Counsel to the Assistant Attorney General for National Security at the Department of Justice. His work in government spanned issues such as closure of the detention facility at Guantanamo Bay, the counter-ISIL campaign, and Americans held hostage overseas. He was a law clerk to Supreme Court Justice Stephen Breyer. Additionally, Geltzer is an editor of Just Security and has been a prolific public writer, appearing in The Atlantic, Foreign Policy, Politico, and the Washington Post, among others. He can be found on Twitter at @jgeltzer.
Geltzer shared insights on his constitutional advocacy work, experience in government, and advice for law students on navigating national security careers and making an impact both in and out of government.
Hina Shamsi – April 8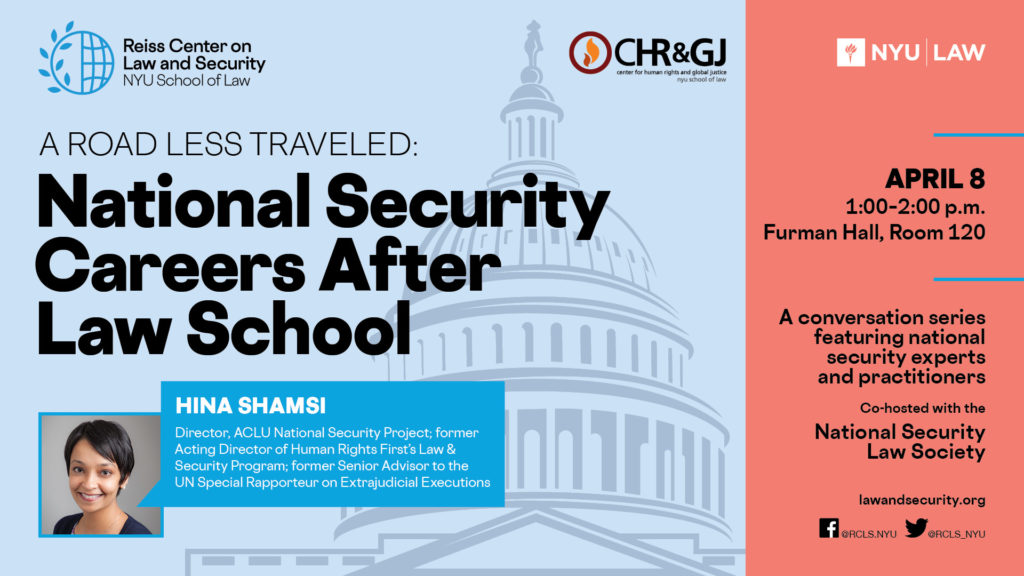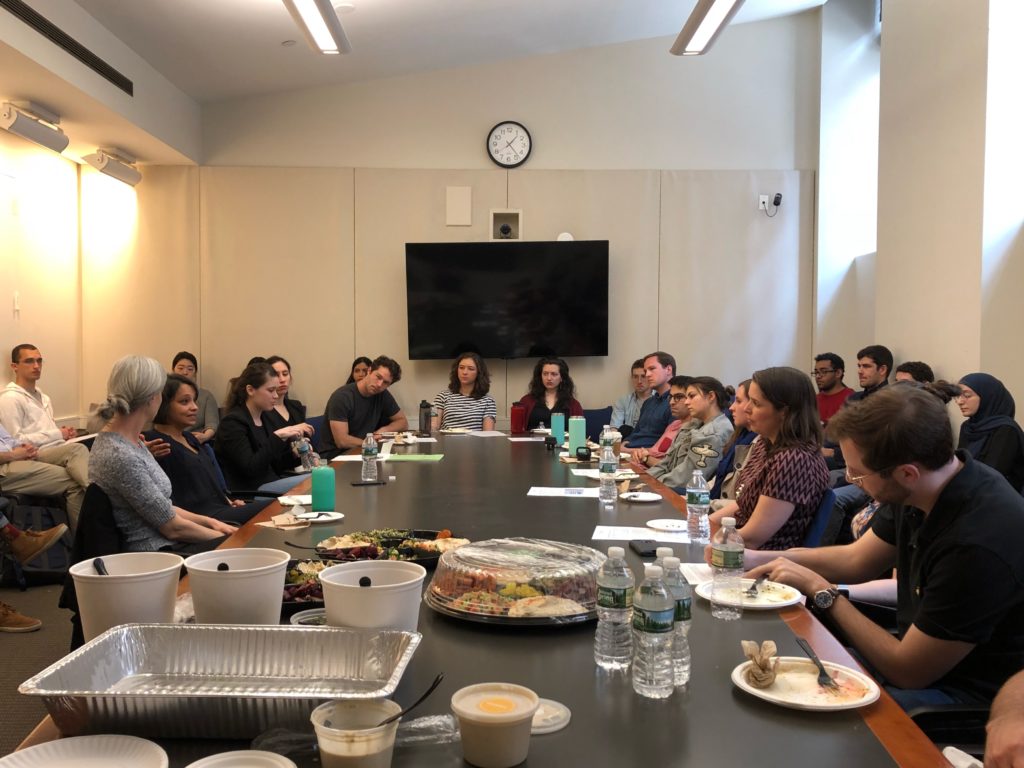 The Reiss Center on Law and Security, the Center for Human Rights and Global Justice, and the National Security Law Society hosted Hina Shamsi, Director of the ACLU National Security Project, for the fourth session of a series featuring national security law and policy practitioners. Prior to her work at the ACLU, Shamsi was the acting director of Human Rights First's Law & Security Program and previously served as senior advisor to the UN Special Rapporteur on Extrajudicial Executions. She spoke with students about her career path after law school and her experience working in the public interest national security and human rights field.
Wally Adeyemo – March 26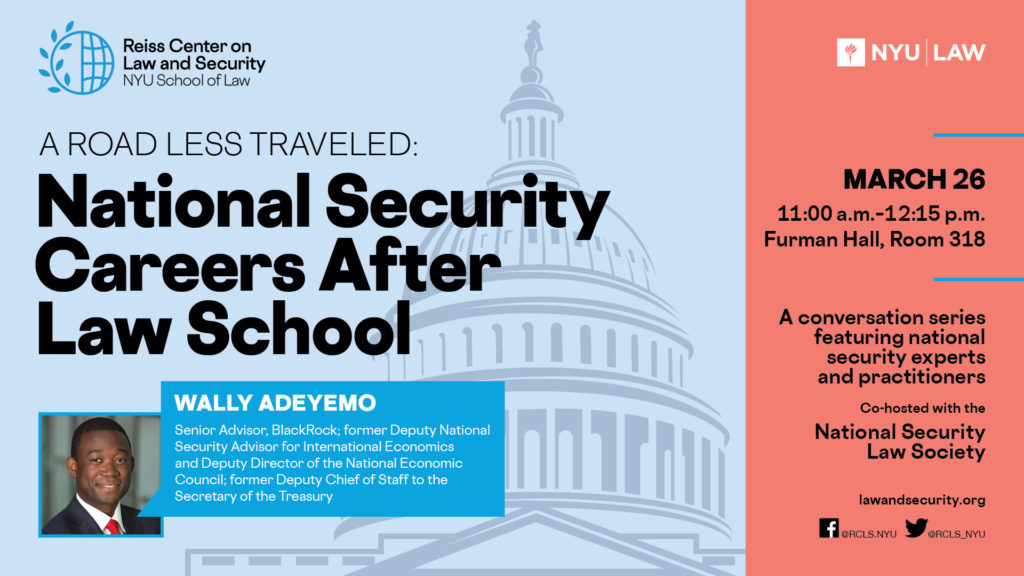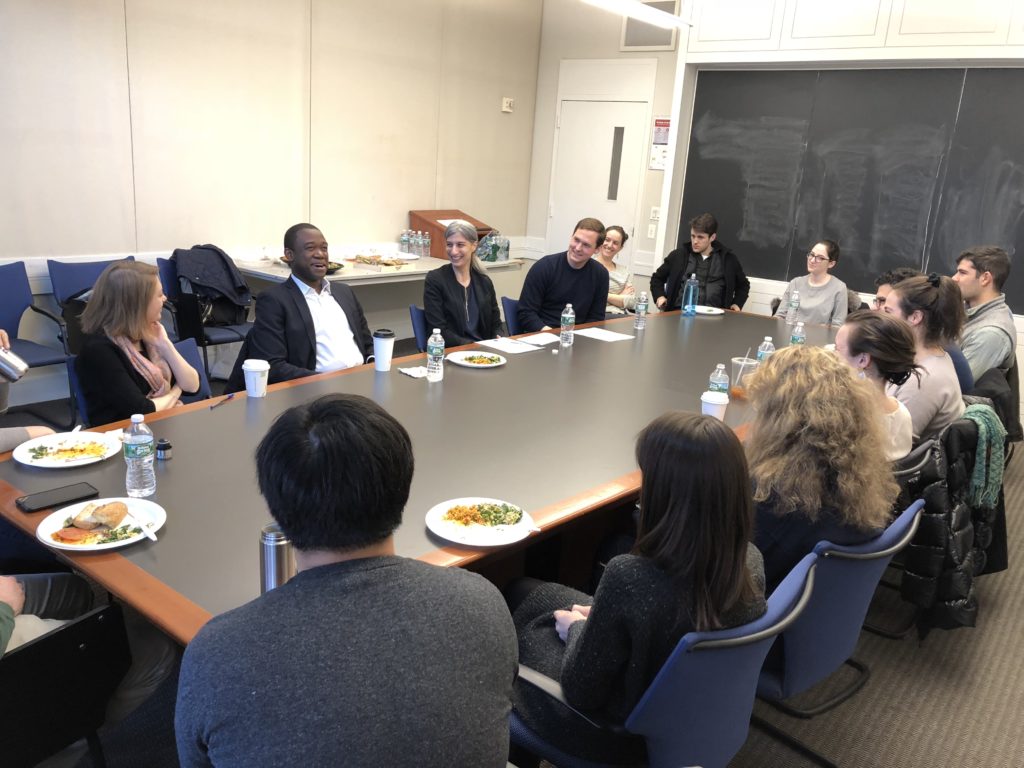 On Tuesday, March 26, the Reiss Center on Law and Security and the National Security Law Society hosted Wally Adeyemo, Senior Advisor at BlackRock, for the third session of a series featuring national security law and policy practitioners. Prior to his work for BlackRock, Adeyemo was the former Deputy National Security Advisor for International Economics and Deputy Director of the National Economic Council, as well as Deputy Chief of Staff to the Secretary of the Treasury. He spoke with students about his career path after law school and his experience working at the intersection of law and economics in both the public and private sector.
Margaret Taylor – February 12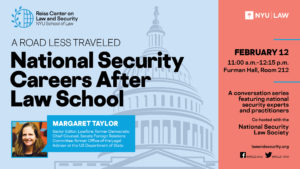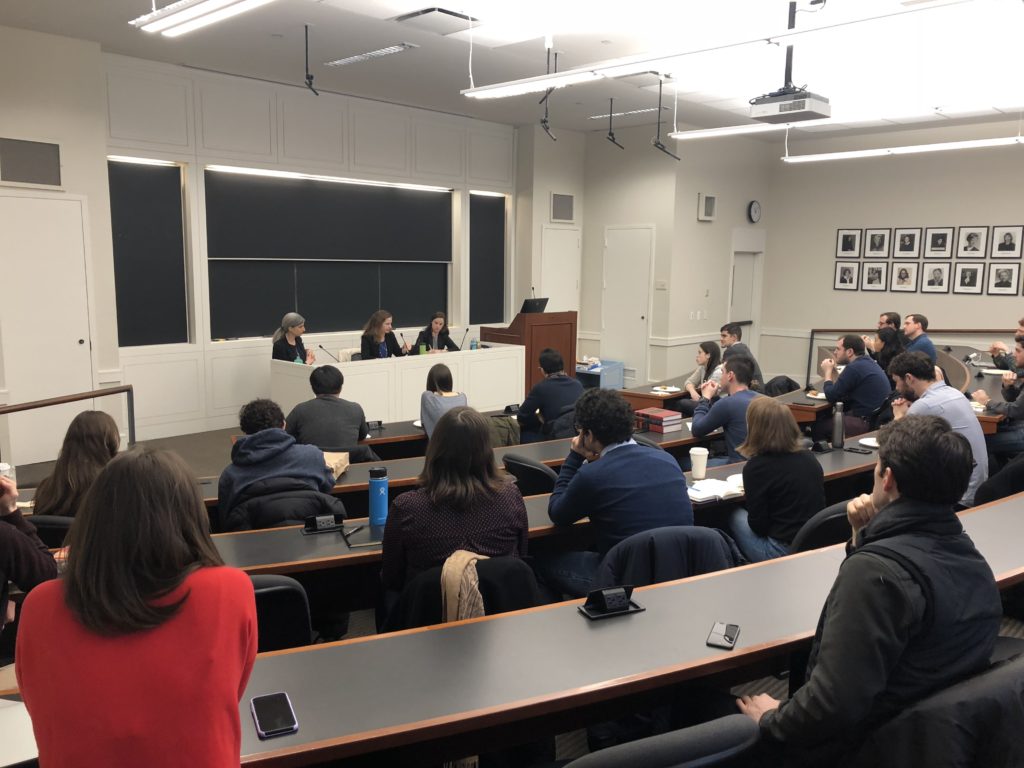 On Tuesday, February 12, the Reiss Center on Law and Security and the National Security Law Society hosted Margaret Taylor, Senior Editor at Lawfare and Fellow at the Brookings Institution, for the second session of a series featuring national security law and policy practitioners. Taylor previously served as the Democratic Chief Counsel of the Senate Foreign Relations Committee, as well as an attorney with the Office of the Legal Adviser at the U.S. Department of State.
Taylor spoke with students about her career path during and after law school, including her experience working on Capitol Hill and in the Executive Branch. She began by discussing her longstanding interest in public international law, and the courses and activities she found most formative while in law school. She discussed her work at the State Department and the Senate Foreign Relations Committee, as well as her transition from advising Executive Branch clients to Congress. She considered ways that lawmakers can influence the debate on foreign policy issues through hearings, resolutions, and other methods, even without the pulpit of the presidency. Taylor also described her current role as Senior Editor and Counsel with Lawfare and fellow at Brookings, along with the new experience of working in a more public-facing role after spending the earlier part of her career as an advisor to policymakers.
In her advice to students interested in a career in national security law, Taylor emphasized the need for seizing opportunities as they arise. She highlighted the importance of approaching these challenges with confidence in one's own expertise, coupled with an honesty about areas in which one can learn and grow. Taylor explained that she allowed her desire to pursue work of genuine interest to guide her career decisions, and she encouraged students to do the same, and to embrace serendipity and be willing to take risks – wherever that might lead them.
You can follow her on Twitter @MargLTaylor.
Rachel Goldbrenner – January 25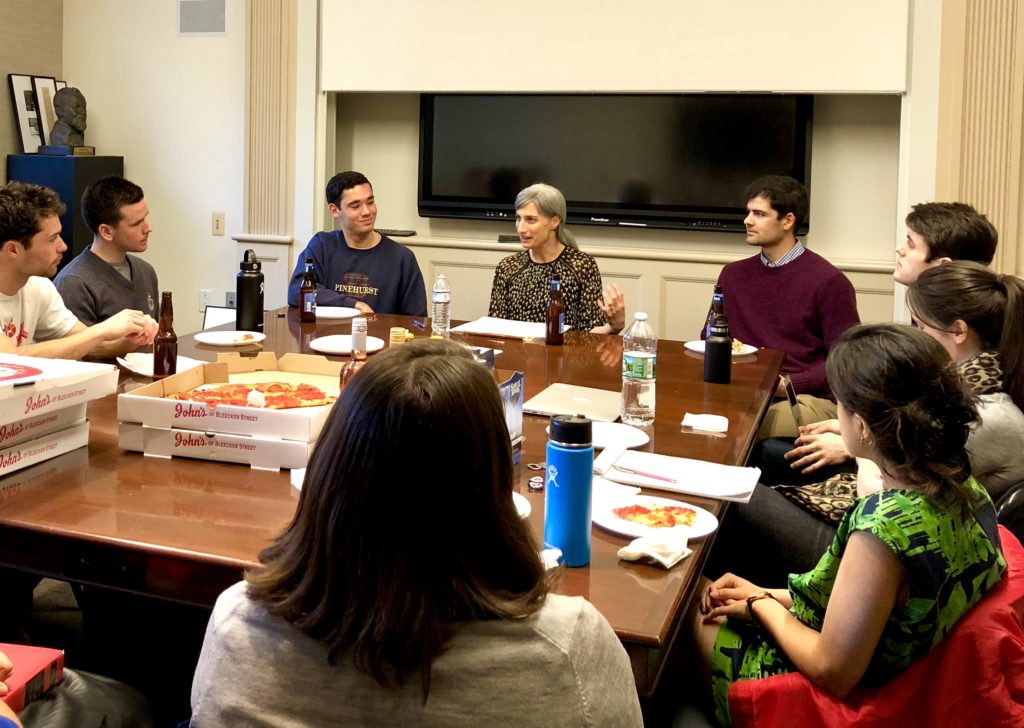 On Friday, January 23, the Reiss Center on Law and Security and the National Security Law Society hosted Rachel Goldbrenner, Executive Director of the Reiss Center on Law and Security for the inaugural session of a series with national security law and policy practitioners. Prior to heading the Reiss Center, Goldbrenner served in a number of national security roles in the White House and State Department, including as a senior advisor to U.S. Ambassador to the UN Samantha Power and as a director for multilateral affairs and human rights at the National Security Council. She has also practiced as an international litigator and served at several thinktanks and advocacy organizations.
In her roundtable discussion with current NYU law students, Goldbrenner discussed her career path both leading into and following law school. She discussed the challenges and rewards of government service and gave her advice for students interested in pursuing a career in national security. Turning to her current role, she also provided an overview of the Reiss Center's renewed agenda, plans for the future, and opportunities and resources for students interested in national security at NYU Law.