Wally Adeyemo
Non-Resident Senior Fellow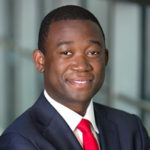 Wally Adeyemo is a Non-Resident Senior Fellow at the Reiss Center on Law and Security at NYU School of Law. He is the President of the Obama Foundation. Adeyemo previously was the Deputy National Security Advisor for International Economics and Deputy Director of the National Economic Council, serving as President Obama's senior international economic advisor. He also served as the President's representative to the G7 and G20.
Adeyemo held several senior positions at the Treasury Department, including Senior Advisor and Deputy Chief of Staff. He served as the Treasury department's chief negotiator for the Trans-Pacific Partnership's provisions on macroeconomic policy. He also served as the first Chief of Staff at the Consumer Financial Protection Bureau (CFPB).
Prior to joining the Obama Administration, Adeyemo was an Editor for the Hamilton Project, a program at the Brookings Institution focused on advancing public policy proposals that contribute to long-term economic growth. He received a B.A. from the University of California, Berkeley and a J.D. from Yale Law School. Follow him on Twitter @wallyadeyemo.