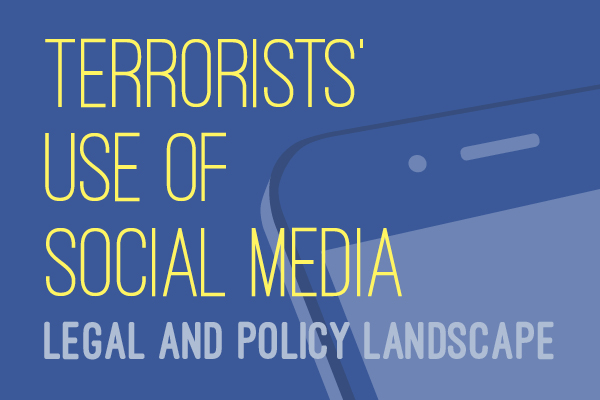 Terrorists' Use of Social Media: The Legal and Policy Landscape
October 27, 2016 @ 6:45 pm

-

8:00 pm
To watch the video recording of the event please click here.
There is presently significant uncertainty in the legal regime governing circumstances in which platform providers can be compelled to take down content, or in which they can be held civilly liable for their failure to do so. While the general legal landscape is thick, the precise application to content hosted on social media platforms is not clear. Some of the specific questions this panel will consider include:
Can platform providers be held civilly liable for hosting terrorist-linked content on their services?
Can the government use the same software that commercial advertising firms use to follow the behavior of potential ISIS recruits as they consume material available on public platforms like YouTube and Twitter?
What should social media companies do with regard to terrorist-linked content, and to what incentives to they respond when considering these questions?
We are pleased to offer up to 1.5 credits of CLE in the Areas of Professional Practice at this event.
Speakers will include:
Raj De, Partner, Mayer Brown; Distinguished Fellow, Center on Law and Security
David Fidler, Adjunct Senior Fellow for Cybersecurity, Council on Foreign Relations; James Louis Calamaras Professor of Law, Maurer School of Law, Indiana University
Hugh Handeyside, Staff Attorney, National Security Project, American Civil Liberties Union
Monroe Price, Full Adjunct Professor, Annenberg School for Communication, University of Pennsylvania
Moderator: Zachary Goldman, Executive Director, Center on Law and Security, and Adjunct Professor of Law, NYU School of Law