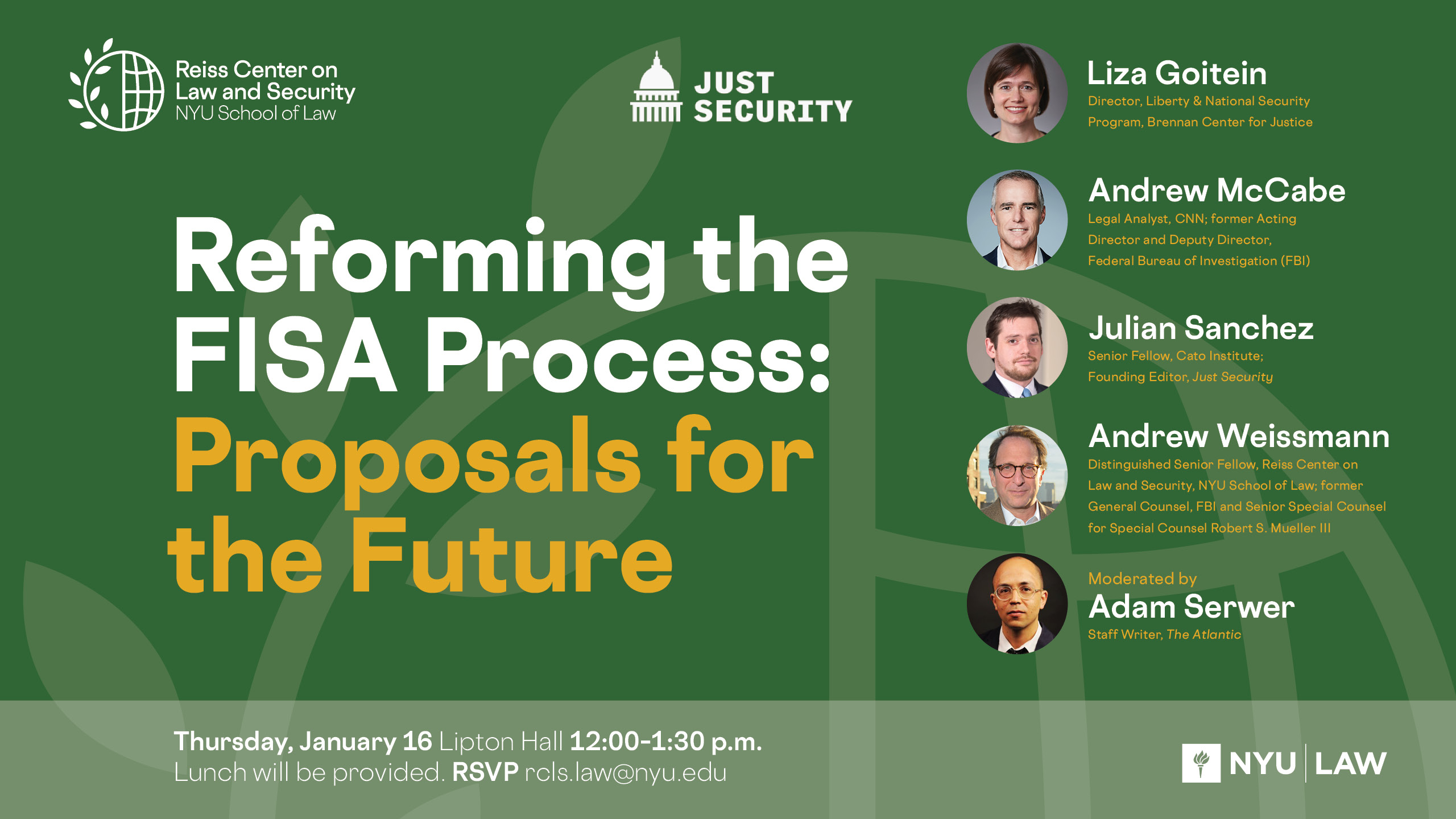 Reforming the FISA Process:
Proposals for the Future
January 16, 2020 @ 12:00 pm

-

1:30 pm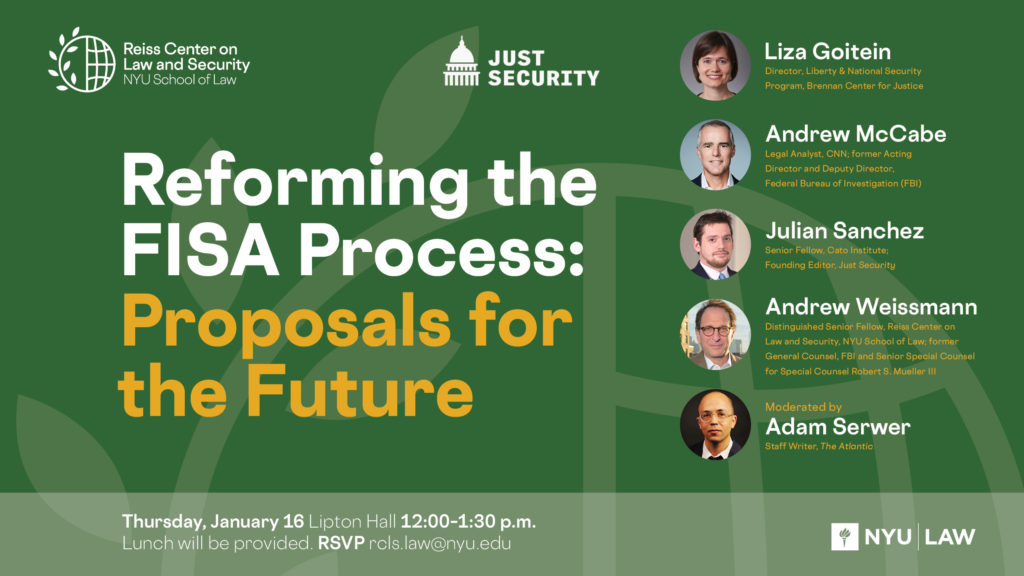 A recent report by the Department of Justice's Office of the Inspector General made waves for its detailed criticism of the warrants obtained in the Carter Page case. In the wake of that report, a diverse range of advocates, thinkers and lawmakers have renewed calls to reform the surveillance authorization process under the Foreign Intelligence Surveillance Act (FISA). Yet even with a growing consensus around the need for change, forging agreement on the nature and scope of the problem and the proper substance of FISA reforms remains challenging.
NYU School of Law's Reiss Center on Law and Security and Just Security convened a public conversation featuring an expert panel to diagnose the problems and foster ideas for solutions.
Speakers
Liza Goitein, Director, Liberty & National Security Program, Brennan Center for Justice
Andrew McCabe, Legal Analyst, CNN; former Acting Director and Deputy Director of the Federal Bureau of Investigation (FBI)
Julian Sanchez, Senior Fellow, Cato Institute; Founding Editor, Just Security
Andrew Weissmann, Distinguished Senior Fellow, Reiss Center on Law and Security, NYU School of Law; former General Counsel, FBI and Senior Special Counsel for Special Counsel Robert S. Mueller III
Moderated by
Adam Serwer, Staff Writer, The Atlantic
Thursday, January 16
12:00 – 1:30 pm
Lipton Hall
108 W. 3rd Street
New York, NY
1.5 credits of New York State CLE in the Areas of Professional Practice category were available. This event was appropriate for both newly admitted and experienced attorneys.
Speaker Bios
Liza Goitein
Elizabeth (Liza) Goitein co-directs the Brennan Center for Justice's Liberty and National Security Program, which seeks to advance effective national security policies that respect constitutional values and the rule of law. Before coming to the Brennan Center, Ms. Goitein served as counsel to Senator Feingold, Chairman of the Constitution Subcommittee of the Senate Judiciary Committee. As counsel to Senator Feingold, Ms. Goitein handled a variety of liberty and national security matters, with a particular focus on government secrecy and privacy rights. She also worked on matters involving immigration, juvenile justice, sentencing, prisoner re-entry, and First Amendment issues. Previously, Ms. Goitein was a trial attorney in the Federal Programs Branch of the Civil Division of the Department of Justice.
Andrew McCabe
Andrew G. McCabe, author of the New York Times bestselling book, The Threat: How the FBI Protects America in the Age of Terror and Trump, spent 21 years in the FBI. On May 9, 2017 he became acting director of the FBI after the firing of FBI Director James Comey. Prior to this role, he served as the deputy director where he oversaw all of the FBI's operations and intelligence collection activities. Mr. McCabe also previously served as associate deputy director, responsible for the management of all FBI personnel, budget, administration, technology and infrastructure.
Mr. McCabe began his career as a special agent with the FBI in 1996, assigned to the New York Field Office, investigating and supervising Russian organized crime cases. In 2006, Mr. McCabe shifted his focus to national security when he was promoted to FBI Headquarters in the Counterterrorism Division. In 2008, Mr. McCabe was promoted to assistant special agent in charge of the Washington Field Office's Counterterrorism Division where he received the FBI Director's Award for his work on the 56th Presidential Inauguration.
Mr. McCabe returned to FBI Headquarters in 2009 to build and oversee the High Value Detainee Interrogation Group (HIG), which was President Obama's effort to transform the government's interrogation of terrorists. In 2012, Mr. McCabe became the assistant director in charge of the FBI's Counterterrorism Division.
In 2013, Mr. McCabe was appointed as executive assistant director of the National Security Branch where he ensured the FBI successfully executed its mission to defend the United States from all national security threats. In that role, Mr. McCabe oversaw the FBI's work in the Counterterrorism, Counterintelligence, Intelligence, and Weapons of Mass Destruction divisions, as well as the Terrorism Screening Center and the HIG. In September 2014, he was named assistant director in charge of the FBI's Washington Field Office where he was responsible for all programs in the nation's second largest FBI field division
Before entering the FBI, Mr. McCabe worked as a lawyer in private practice. He received a Bachelor of Arts degree from Duke University in 1990 and Juris Doctor from Washington University School of Law in 1993. In 2010, Mr. McCabe was certified by the Director of National Intelligence as a senior intelligence officer, and in December 2014, Mr. McCabe was awarded the Presidential Rank Award for Meritorious Service. Mr. McCabe is married, has two children, and lives in northern Virginia.
Julian Sanchez
Julian Sanchez is a senior fellow at Cato and focuses primarily on issues at the busy intersection of technology, privacy, civil liberties, and new media — but also writes more broadly about political philosophy and social psychology. Before joining Cato, Sanchez served as the Washington Editor for the technology news site Ars Technica, where he covered surveillance, intellectual property, and telecom policy. Prior to that, he was an assistant editor for Reason magazine, where he remains a contributing editor. Sanchez's writing has appeared in The Los Angeles Times, The American Prospect, Reason, The Guardian, Techdirt, The American Spectator, and Hispanic, among others, and he blogs regularly for The Economist's Democracy in America. Sanchez studied philosophy and political science at New York University.
Andrew Weissmann
Andrew Weissmann is a Distinguished Senior Fellow at the Reiss Center on Law and Security and the Center on the Administration of Criminal Law. He served as a lead prosecutor in Robert S. Mueller's Special Counsel's Office (2017-19) and as Chief of the Fraud Section in the Department of Justice (2015-2019).
During his previous tenure at NYU Law (2013-2015), Weissmann was a Senior Fellow at both the Reiss Center on Law and Security and the Center for the Administration of Criminal Law. He taught courses in national security and criminal procedure.
From 2011 to 2013, Weissmann served as the General Counsel for the Federal Bureau of Investigation. He previously served as special counsel to then-Director Mueller in 2005, after which he was a partner at Jenner & Block in New York City. From 2002-2005, he served as the Deputy and then the Director of the Enron Task Force in Washington, D.C., where he supervised the prosecution of more than 30 individuals in connection with the company's collapse. Weissmann was a federal prosecutor for 15 years in the Eastern District of New York, where he served as the Chief of the Criminal Division. He prosecuted numerous members of the Colombo, Gambino, and Genovese families, including the bosses of the Colombo and Genovese families. Weissmann has extensive experience in private practice. Weissmann won the largest Financial Industry Regulatory Authority arbitration award in history. He has taught criminal law and procedure at Fordham Law School and Brooklyn Law School. He holds a Juris Doctor degree from Columbia Law School and was on the managing board of the Columbia Law Review. He has a Bachelor of Arts degree from Princeton University and attended the University of Geneva on a Fulbright Fellowship.
Moderated by
Adam Serwer
Adam is a Staff Writer at The Atlantic. He has received awards from the National Association of Black Journalists (NABJ), The Root, and the Society of Professional Journalists. He was named a spring 2019 Shorenstein Center fellow and received a 2019 Hillman Prize for Opinion & Analysis Journalism. Serwer has a B.A. from Vassar College and a master's degree from Columbia University's School of Journalism. Following graduate school, he was a writing fellow at The American Prospect. He later worked at Mother Jones, MSNBC, the Washington Post, and BuzzFeed News as the national editor. Serwer joined The Atlantic in 2016. His work there has focused on white supremacy, race in America, and the Trump administration. He has won attention for influential essays like "White Nationalism's Deep American Roots" and "The Cruelty Is the Point."
CLE Reading Material
Office of the Inspector General, US Department of Justice, Review of Four FISA Applications and Other Aspects of the FBI's Crossfire Hurricane Investigation, Executive Summary, pp. i-xix. (PDF)
Julian Sanchez, The Crossfire Hurricane Report's Inconvenient Findings, Just Security. (link)
Statement of Elizabeth Goitein before the United States Senate Committee on the Judiciary, Hearing on The FISA Amendments Act: Reauthorizing America's Vital National Security Authority and Protecting Privacy and Civil Liberties, June 27, 2017. (PDF)