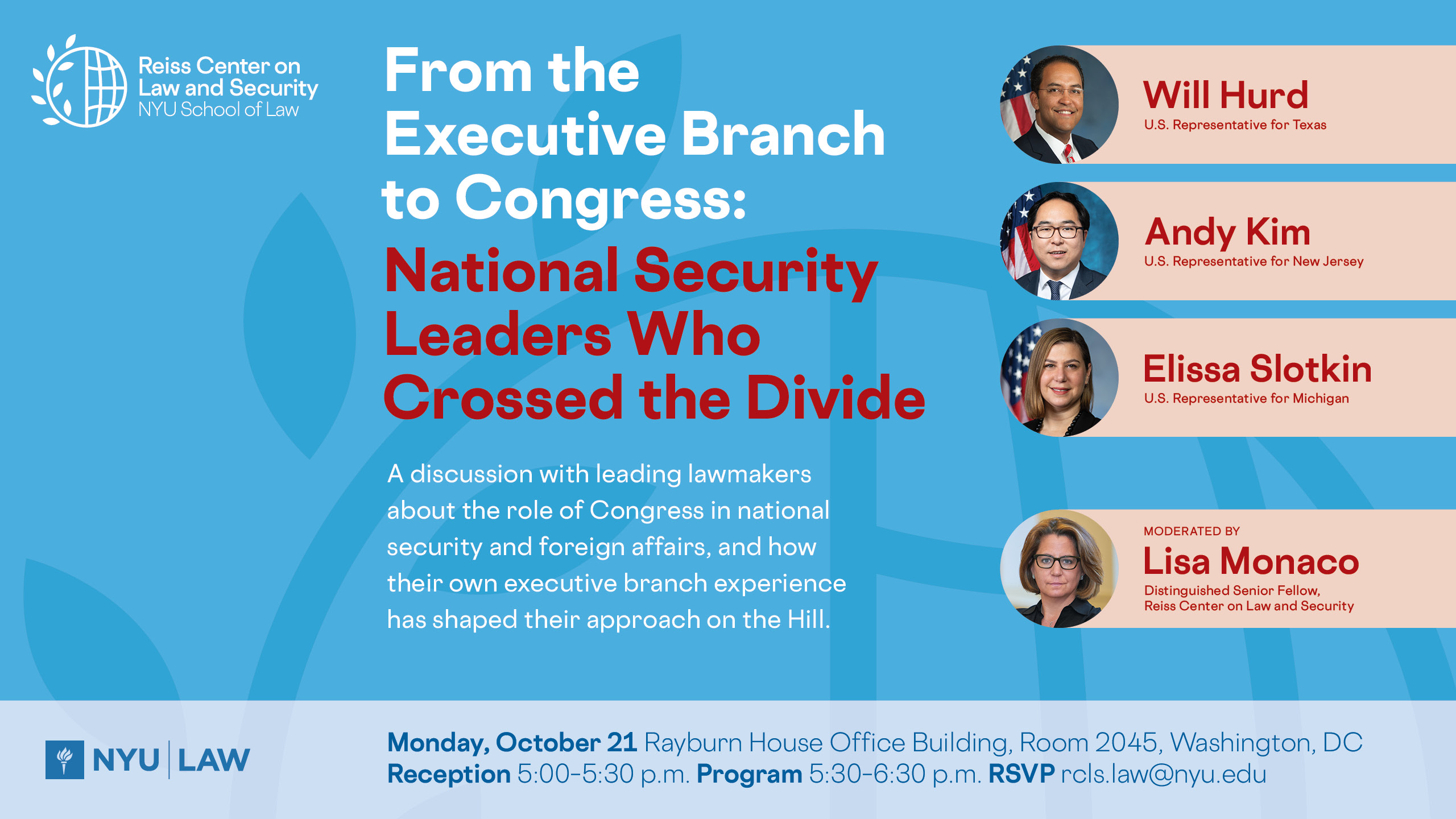 From the Executive Branch to Congress: National Security Leaders
Who Crossed the Divide
October 21, 2019 @ 5:00 pm

-

6:30 pm
The full video of the discussion is now available.
The Reiss Center on Law and Security hosted a discussion with Representatives Will Hurd, Andy Kim and Elissa Slotkin about the role of Congress in national security and foreign affairs, and how their own executive branch experience has shaped their approach on the Hill.
The program was moderated by Lisa Monaco, Distinguished Senior Fellow at the Reiss Center and former Homeland Security Advisor to the President.
October 21, 2019
Reception 5:00-5:30 p.m.
Program 5:30-6:30 p.m.
Rayburn House Office Building, Room 2045
45 Independence Ave SW
Washington, DC
Speaker Bios
Will Hurd
Born and raised in San Antonio, Texas, Will Hurd is a proud product of the Texas public school system. He attended John Marshall High School and Texas A&M University, where he majored in Computer Science and served as Student Body President.
After college, Will served as an undercover officer in the CIA in the Middle East and South Asia for nearly a decade, collecting intelligence that influenced the National Security agenda. Upon leaving the CIA, he became a Senior Advisor with a cybersecurity firm, covering a wide range of complex challenges faced by manufacturers, financial institutions, retailers, and critical infrastructure owners. He was also a partner with a strategic advisory firm helping businesses expand into international markets.
Will is the first member to serve the 23rd District of Texas in Congress for three consecutive terms in a decade. In 2017, Will was appointed by Speaker Ryan to serve on the House Permanent Select Intelligence Committee, where he serves as Ranking Member of the Subcommittee on Intelligence Modernization and Readiness. Will was also selected by Republican Leader Kevin McCarthy this year to serve on the House Appropriations Committee, where he is a member of the Subcommittees on Military Construction and Veterans Affairs along with Transportation, Housing and Urban Development.
He is close to his brother Charlie, sister Liz, mother Mary Alice, and father Bob, who all live in San Antonio.
Andy Kim
Congressman Andy Kim was elected to the U.S. House of Representatives in 2018. He represents the Third Congressional District of New Jersey, which stretches from the Delaware River to the Atlantic Ocean encompassing most of Burlington County and parts of Ocean County.
Congressman Kim grew up in South Jersey, the proud son of Korean immigrants. His father and mother raised Andy and his sister in South Jersey because of the top notch public school system and safe communities. Andy attended public K-12 schools and credits the quality of his education with helping him become a Rhodes Scholar and leading national security expert.
Andy is a dedicated public servant, who believes service is a way of life. He worked as a career public servant under both Democrats and Republicans, and served at the Pentagon, State Department, the White House National Security Council, and in Afghanistan as an advisor to Generals Petraeus and Allen.
He currently lives in Burlington county with his wife and two baby boys.
Elissa Slotkin
U.S. Representative Elissa Slotkin is proud to serve the people of the 8th Congressional District of Michigan, a district that spans Ingham, Livingston, and North Oakland counties. Rep. Slotkin has spent her career in national service. After the 9/11 terrorist attacks she was recruited by the Central Intelligence Agency (CIA) to be a Middle East analyst. In her role at the CIA, Rep. Slotkin worked alongside the U.S. military during three tours in Iraq as a militia expert. In between her tours in Iraq, Rep. Slotkin held various defense and intelligence positions under President Bush and President Obama, including roles at the White House and the Office of the Director of National Intelligence. In 2011, Rep. Slotkin took a senior position at the Pentagon and, until January 2017, she served as Acting Assistant Secretary of Defense for International Security Affairs. Representative Slotkin was elected in 2018 and is serving her first term in the US House of Representatives.
Moderator Bio
Lisa Monaco
Lisa Monaco served as Homeland Security and Counterterrorism Advisor to President Barack Obama from 2013-2017. In this role, she chaired the cabinet level homeland security principals committee and coordinated the federal government's crisis management and response to cyberattacks, pandemics and terrorist threats. Lisa also spent 15 years at the Department of Justice, serving as a career federal prosecutor, and in senior management positions including  at the FBI, where she served as Chief of Staff to then-Director Robert S. Mueller, III and helped him lead the FBI's post-9/11 transformation. In 2011, she was confirmed as Assistant Attorney General for National Security, the first woman to serve in that position. She oversaw all federal terrorism and national security prosecutions nationwide. During her tenure she made cyber threats a top priority and created the first nationwide network of national security cyber specialists. She is now a Partner at O'Melveny & Myers and serves as co-chair of the firm's Data Security and Privacy group. She is also a Distinguished Senior Fellow at New York University Law School's Reiss Center on Law & Security and Center for Cybersecurity. In addition, she is a member of the board of Accenture Federal Services; Cognosante LLC; and the non-profit organization, Hostage US. She also co-chairs the Aspen Institute's Cybersecurity Group, and she is a senior national security analyst for CNN.