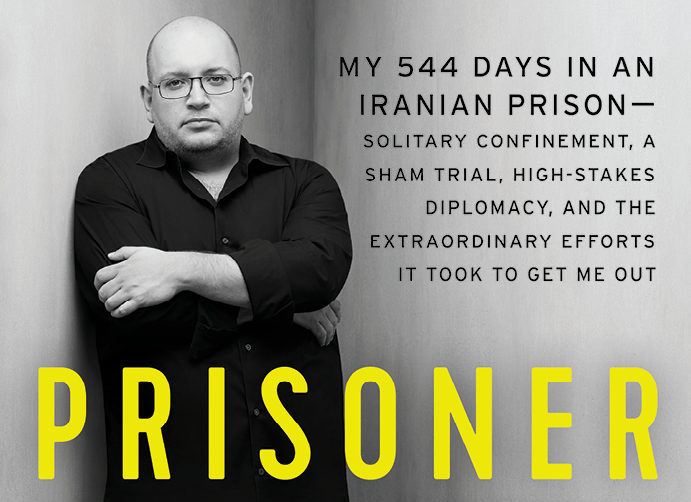 Book Talk – Prisoner: My 544 Days in an Iranian Prison
April 23, 2019 @ 6:00 pm

-

7:15 pm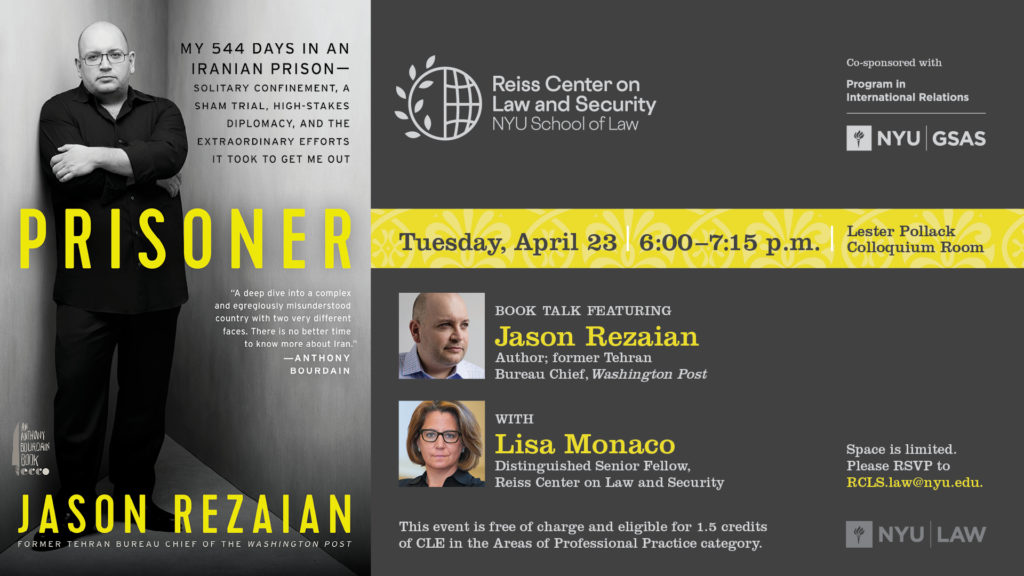 The Reiss Center on Law and Security, together with the NYU Program in International Relations, hosted this event.
Jason Rezaian, former Tehran Bureau Chief for the Washington Post, discussed his 2014 arrest and subsequent captivity in Iran's notorious Evin prison and the complex, sustained efforts required to secure his release amidst high-stakes nuclear negotiations between the U.S. and Iran. Rezaian recounts his journey in his new book, Prisoner: My 544 Days in an Iranian Prison.
Rezaian was joined in conversation by RCLS Distinguished Senior Fellow Lisa Monaco, who served in the White House as Homeland Security Advisor to President Obama at the time of Rezaian's detention and the efforts to secure his release.
1.5 credits of CLE in the Areas of Professional Practice category (transitional and non-transitional) were available. Please see below for description, speaker bios, and CLE reading materials.
Updated location:
Furman Hall, Lester Pollack Colloquium Room, Ninth Floor
245 Sullivan Street
6:00 p.m. – 7:15 p.m.
In the conversation with Rezaian and Lisa Monaco, former Homeland Security Advisor to President Obama, attorneys learned about the international legal and foreign policy issues around Rezaian's detention and the negotiations for his release – including the parallel international nuclear agreement and resolution of the legal cases and termination of the extradition requests for Iranians that figured in the release of Rezaian and his fellow Americans held by Iran.
Description from Publisher Anthony Bourdain/Ecco:
In July 2014, Washington Post Tehran bureau chief Jason Rezaian was arrested by Iranian police, accused of spying for America. The charges were absurd. Rezaian's reporting was a mix of human interest stories and political analysis. He had even served as a guide for Anthony Bourdain's Parts Unknown. Initially, Rezaian thought the whole thing was a terrible misunderstanding, but soon realized that it was much more dire as it became an eighteen-month prison stint with impossibly high diplomatic stakes.
While in prison, Rezaian had tireless advocates working on his behalf. His brother lobbied political heavyweights including John Kerry and Barack Obama and started a social media campaign—#FreeJason—while Jason's wife navigated the red tape of the Iranian security apparatus, all while the courts used Rezaian as a bargaining chip in negotiations for the Iran nuclear deal.
In Prisoner, Rezaian writes of his exhausting interrogations and farcical trial. He also reflects on his idyllic childhood in Northern California and his bond with his Iranian father, a rug merchant; how his teacher Christopher Hitchens inspired him to pursue journalism; and his life-changing decision to move to Tehran, where his career took off and he met his wife. Written with wit, humor, and grace, Prisoner brings to life a fascinating, maddening culture in all its complexity.
Speaker Bios
Jason Rezaian is one of the few Western journalists to have been based in Tehran in recent years. From 2009 until his arrest in 2014, he covered stories that tried to explain Iran to a general American audience, first as a freelancer for a variety of outlets and later as The Washington Post's Tehran bureau chief.
He reported on two presidential elections, Iran's nuclear negotiations with global powers, the effects of one of the most punitive sanctions regimes in modern times, and environmental issues.
In between those momentous topics, he told the stories of everyday Iranians which sought to make them more accessible to readers, reporting on Iran's small community of baseball players, the quest for the best high-end hamburger in Tehran, and a clinic for female drug addicts.
In July of 2014, Rezaian and his wife were detained in their home and he went on to spend 544 days in Tehran's Evin prison, released on the same day that the historic nuclear deal between Iran and world powers was implemented.
Lisa O. Monaco is a Distinguished Senior Fellow at the Reiss Center on Law and Security at NYU School of Law. Monaco most recently served as assistant to the President for homeland security and counterterrorism in the White House. As President Obama's homeland security advisor, she coordinated policy development and crisis response to terrorist attacks, cyberincidents, and public health emergencies and natural disasters.
Prior to her White House appointment, Monaco spent 15 years in various positions at the Department of Justice (DOJ), including as Assistant Attorney General for National Security, where she established the first nationwide network of national security cyberspecialists and led a division of more than 300 lawyers responsible for national security cases and policy. Before leading the national security division, Lisa was principal associate deputy attorney general—the deputy attorney general's primary advisor on criminal policy, law enforcement, national security, and civil litigation matters. She also served for three years as counsel and chief of staff to FBI Director Robert Mueller III, and before that, worked as an assistant US attorney, including as a member of the Enron Task Force. She began her legal career as a law clerk to Judge Jane Roth of the US Court of Appeals for the Third Circuit.
Monaco is the recipient of the Attorney General's Award for Exceptional Service—the DOJ's highest honor—as well as the Edmund J. Randolph Award, awarded by the attorney general in recognition of outstanding contributions to the DOJ's mission. She is a graduate of Harvard University and the University of Chicago Law School.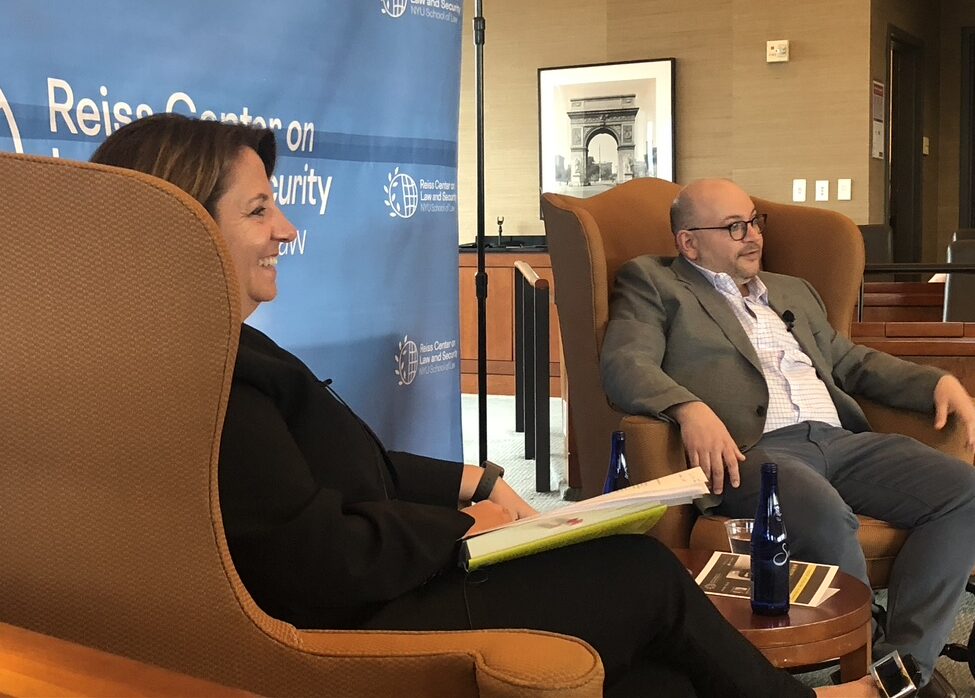 Reading Material
Report on U.S. Hostage Policy, The White House
Presidential Policy Directive — Hostage Recovery Activities, The White House
Executive Order — Hostage Recovery Activities, The White House
Opinions adopted by the Working Group on Arbitrary Detention at its seventy-fourth session, 30 November – 4 December 2015; Opinion No. 44/2015 concerning Jason Rezaian (Islamic Republic of Iran), UN Human Rights Council
Reporter Jason Rezaian Among 4 Americans Released by Iran in Prisoner Exchange with U.S., New York Magazine