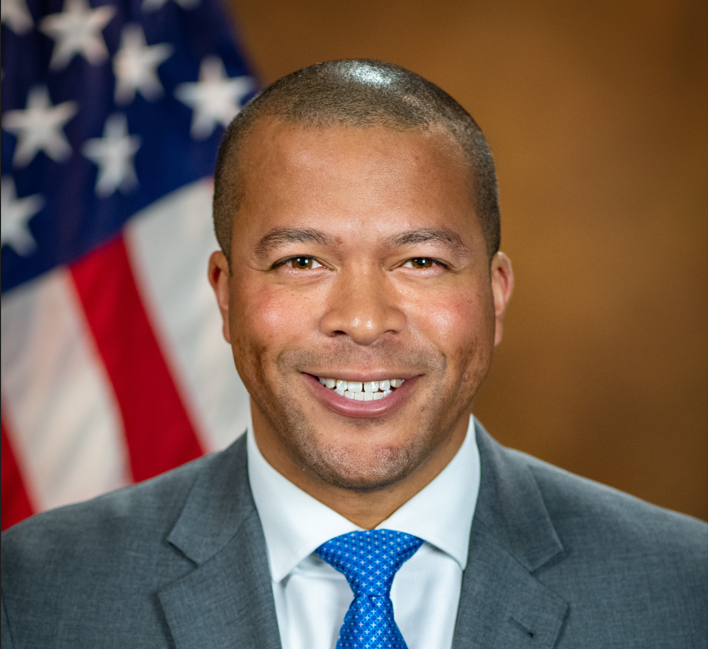 A Road Less Traveled: National Security Careers After Law School – Jeohn Favors
April 3 @ 1:00 pm

-

2:00 pm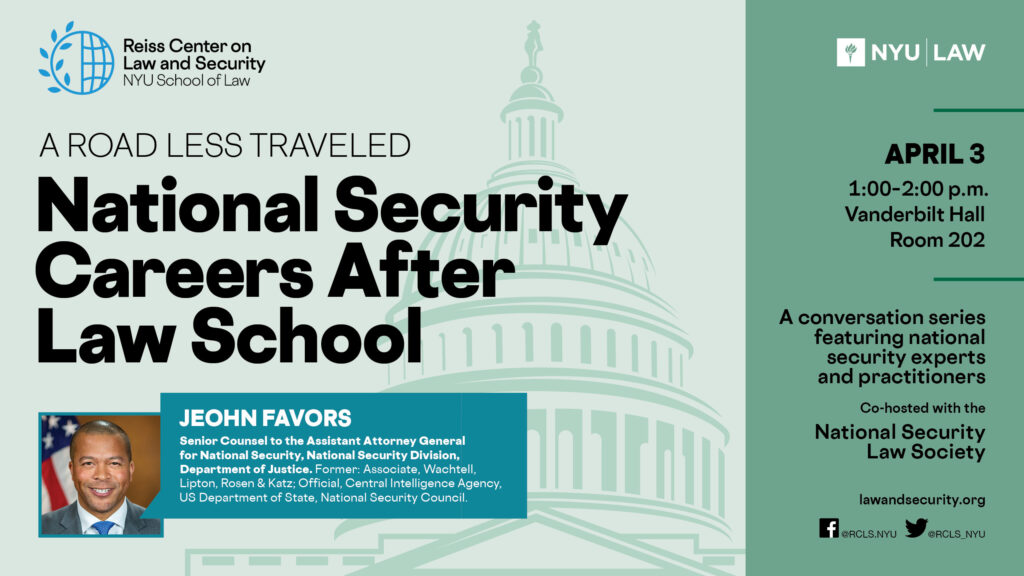 On Monday, April 3, 2023, the Reiss Center on Law and Security and the National Security Law Society welcomed our fifth and final speaker of the 2022-2023 season of A Road Less Traveled: Jeohn Favors, Senior Counsel to the Assistant Attorney General for National Security, National Security Division, Department of Justice. Former: Official, Central Intelligence Agency, U.S. Department of State, National Security Council.
Event Details
April 3, 2023
1:00  – 2:00 p.m.
Vanderbilt Hall
Room 202
Speaker Bio
Jeohn Salone Favors is Senior Counsel to the Assistant Attorney General for National Security at the National Security Division of the Department of Justice. Previously, he was an associate at Wachtell, Lipton, Rosen & Katz, where he litigated high-stakes corporate and commercial disputes and worked on cybersecurity and data privacy, crisis management, corporate governance, and white collar and regulatory compliance matters for a wide range of clients.  Before attending law school, Mr. Favors worked as a national security professional for more than a decade.  His prior service in government includes domestic and overseas assignments as a diplomat with the U.S. Department of State, as an operations officer with the Central Intelligence Agency, and as a member of the National Security Council staff at the White House.
At the White House, Mr. Favors helped manage the U.S. Government's response to post-Arab Spring instability and ever-evolving counterterrorism threats emanating from the Middle East, and was a member of the small team of White House personnel tasked by President Obama to orchestrate and oversee the administration's historic outreach to Iran, which ultimately culminated in the Iran nuclear deal.  Years later, as an advisor to the 2020 Biden-Harris campaign and member of President-Elect Biden's Transition Team, Mr. Favors co-led policy development and strategic planning for the incoming Biden-Harris administration's readiness review of the U.S. Intelligence Community.  Mr. Favors's expertise and interests span a host of foreign affairs, defense, intelligence, counterintelligence, counterterrorism, cybersecurity, weapons proliferation, sanctions, and law of armed conflict topics.
Mr. Favors received a B.A. in Political Science from Yale University in 2005 and a J.D. from Harvard Law School in 2017.  During law school, Mr. Favors worked as a student attorney and public defender in Massachusetts state courts, and served as a member of the trial team that defended and won acquittal of former New England Patriots professional football player Aaron Hernandez in a jury trial for double murder.  He also served as a Class Marshal, Co-President of the National Security and Law Association, and a member of the executive boards of the American Constitution Society and Black Law Students Association.  Mr. Favors is a native of rural South Louisiana and a term member of the Council on Foreign Relations.