From 9/11 to a New Normal? Building Resilience to Terrorism and Extremism in American Cities
April 12, 2018 @ 6:00 am

-

7:30 am
Thursday, April 12, 2018 | 10:00 AM – 11:30 AM
NYU School of Law
Greenberg Lounge | Vanderbilt Hall
40 Washington Square South
To RSVP, please click here.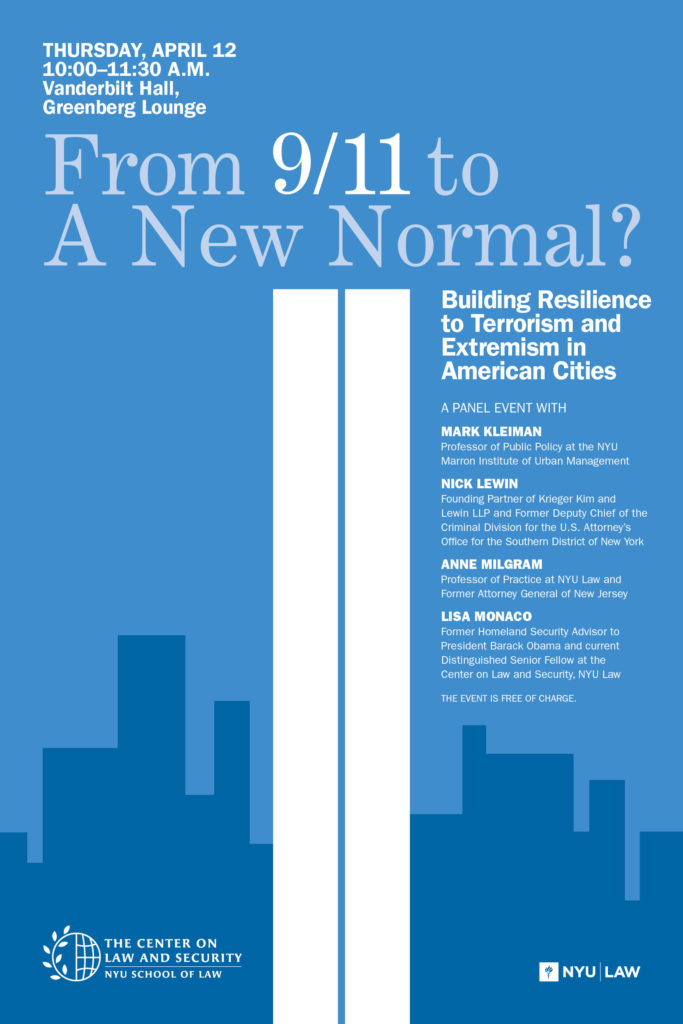 Since 9/11, the threat of a major, externally-organized attack on the American homeland has greatly diminished. But law enforcement has a new national security threat to contend with: self-directed attacks committed by individuals who have radicalized at home, such as the Boston Marathon bombings, Orlando nightclub shooting, and West Side Highway car attack. In this new era of terrorism, officials warn that small-scale terrorist attacks might be simply inevitable—and community and city leaders should be renewing their focus on building resilience so that they are ready when tragedy strikes. This panel convenes law enforcement and national security experts to discuss lessons from previous terror attacks and how cities can be better prepared for the security threats of today.
Featuring:
Mark Kleiman, Professor of Public Policy at the NYU Marron Institute of Urban Management
Nick Lewin, Founding Partner of Krieger Kim & Lewin LLP and Former Deputy Chief of Criminal Division for the U.S. Attorney's Office for the Southern District of New York
Anne Milgram, Professor of Practice at NYU Law and Former Attorney General of New Jersey
Lisa Monaco, Former Homeland Security Adviser to President Barack Obama and current Distinguished Senior Fellow at the Center on Law and Security
Coffee and refreshments will be served.
To RSVP, please click here.