Tess Bridgeman
Senior Fellow and Visiting Scholar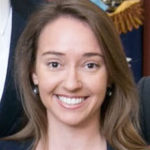 Tess Bridgeman is a Non-Resident Senior Fellow and Visiting Scholar at the Reiss Center on Law and Security at NYU School of Law. She is Co-Editor-in-Chief of Just Security. She served as Special Assistant to President Obama, Associate Counsel to the President, and Deputy Legal Adviser to the National Security Council, where she advised on the full range of issues relating to the national security and foreign policy of the United States. Her portfolio at the White House included, among other matters, the negotiation, implementation, and oversight of the Iran nuclear deal (JCPOA), use of force and international humanitarian law, counterterrorism policy, international human rights and criminal law matters, Middle East and North Africa policy, foreign assistance, the UN and other international organizations, international economic law issues and sanctions programs.
Bridgeman previously served in the U.S. Department of State's Office of the Legal Adviser, where she was Special Assistant to the Legal Adviser. Prior to that role, she served as an Attorney Adviser in the Office of Political-Military Affairs, focusing on detention, civil and criminal litigation, and the intersection of the law of armed conflict and human rights law. Earlier in her career, Bridgeman clerked for Judge Thomas L. Ambro of the Third Circuit Court of Appeals; served at the U.S. Senate Judiciary Committee; and worked as a consultant for the World Bank Inspection Panel.
A Rhodes Scholar and Truman Scholar, Bridgeman has a DPhil in International Relations from Oxford University; a JD from NYU Law School, magna cum laude and Order of the Coif, which she attended as a Root-Tilden-Kern and Institute for International Law and Justice Scholar; and a BA from Stanford University. Bridgeman is an affiliate at Stanford University's Center for International Security and Cooperation and a Senior Adviser at National Security Action. She also serves on the board of the Women's Foundation of California. Follow her on Twitter @bridgewriter.