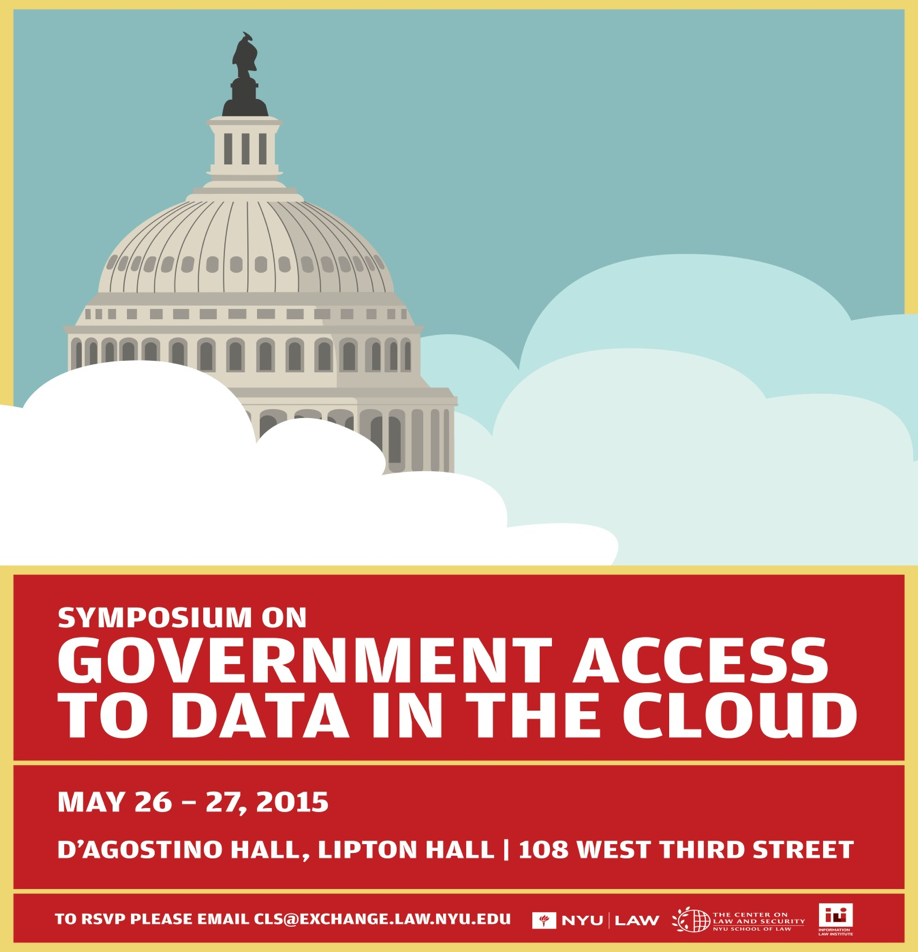 Symposium on Government Access to Data in the Cloud
May 26, 2015 @ 5:00 am

-

May 27, 2015 @ 11:00 am
The Center on Law and Security and the Information Law Institute at
NYU School of Law Present:
Symposium on Government Access to Data in the Cloud
May 26 – 27, 2015
Lipton Hall, D'Agostino Hall
108 West Third Street

To watch the video of the symposium, please click here
CLS and ILI are grateful to Microsoft Corporation for generous support for this symposium.
This Symposium, hosted by the Information Law Institute and the Center on Law and Security, will present cutting-edge research on domestic, international and transnational legal approaches to regulating government access to data stored in the cloud. The symposium will bring legal scholars together with participants who bring law enforcement, industry, privacy advocacy and human rights perspectives to bear on the important and often contentious debate about this rapidly evolving issue.
May 26, 2015
8:30 a.m. – 9:00 a.m. Breakfast & Registration
9:00 a.m. – 10:30 a.m. Panel 1: Searches vs. Subpoenas in the Digital Context 
Bryan Choi, New York Law School
David Gray, University of Maryland, Francis King Carey School of Law
Christopher Slobogin, Vanderbilt Law School
Katherine Strandburg, NYU School of Law
Moderator:
Jeramie Scott, Electronic Privacy Information Center (EPIC)
10:30 a.m. – 11:00 a.m. Break
11:00 a.m. – 12:30 p.m. Panel 2: Data? Metadata? Third Party Data? 
Laura Donohue, Georgetown Law
Kiel Brennan-Marquez, Information Society Project, Yale Law School
Stephen Henderson, University of Oklahoma, College of Law
Susan Freiwald, University of San Francisco, School of Law
Olivier Sylvain, Fordham Law School
Moderator:
Andrew Selbst, U.S. Court of Appeals
12:30 p.m. – 1:30 p.m. Lunch
1:30 p.m. – 3:00 p.m. Panel 3: On the Ground Perspectives on the Application of U.S. Surveillance Law to Data in the Cloud
Alan Butler, Electronic Privacy Information Center (EPIC)
Nathan Judish, Department of Justice
Patrick Toomey, America Civil Liberties Union (ACLU)
Andrew Schaffer, NYU School of Law
Facilitator:
Andrew Weissmann, Department of Justice
3:00 p.m. – 3:30 p.m. Break

3:30 p.m. – 5:00 p.m. Panel 4: Human Rights Issues in Transnational Data Access
Ryan Goodman, NYU School of Law
Michael Posner, NYU Stern School of Business
Faiza Patel, Brennan Center for Justice
Facilitator:
Zachary Goldman, NYU School of Law
May 27, 2015
8:30 a.m. – 9:00 a.m. Breakfast & Registration

9:00 a.m. – 10:30 a.m. Panel 1: Extraterritorial Application of U.S. Law to the Cloud
Jennifer Daskal, American University Washington College of Law
Peter Swire, Georgia Tech, Scheller College of Business
Andrew Woods, University of Kentucky, College of Law
Michael Farbiarz, NYU School of Law
Moderator: 
Daphna Renan, Harvard Law School
10:30 a.m. – 11 a.m. Break
11:00 a.m. – 12:30 p.m. Panel 2: Transnational and Foreign Law Perspectives on Cloud Access
Joris Van Hoboken, NYU School of Law
Ahmed Ghappour, UC Hastings College of Law
Ira Rubinstein, NYU School of Law
Samuel Rascoff, NYU School of Law
Moderator:
Richard Morgan, NYU School of Law
12:30 – 1:30 p.m. Lunch

1:30 p.m. – 3:00 p.m. Panel 3: Perspectives on Transnational Data Access – Government, Civil Society, and Corporate Views
Nate Jones, Microsoft
James Garland, Covington & Burling
Michael Price, Brennan Center for Justice
Kate Westmoreland, Center for Internet and Society, Stanford Law School
Mick Stawasz, Deputy Chief for Computer Crime, Department of Justice
Facilitator:
Judith Germano, NYU School of Law