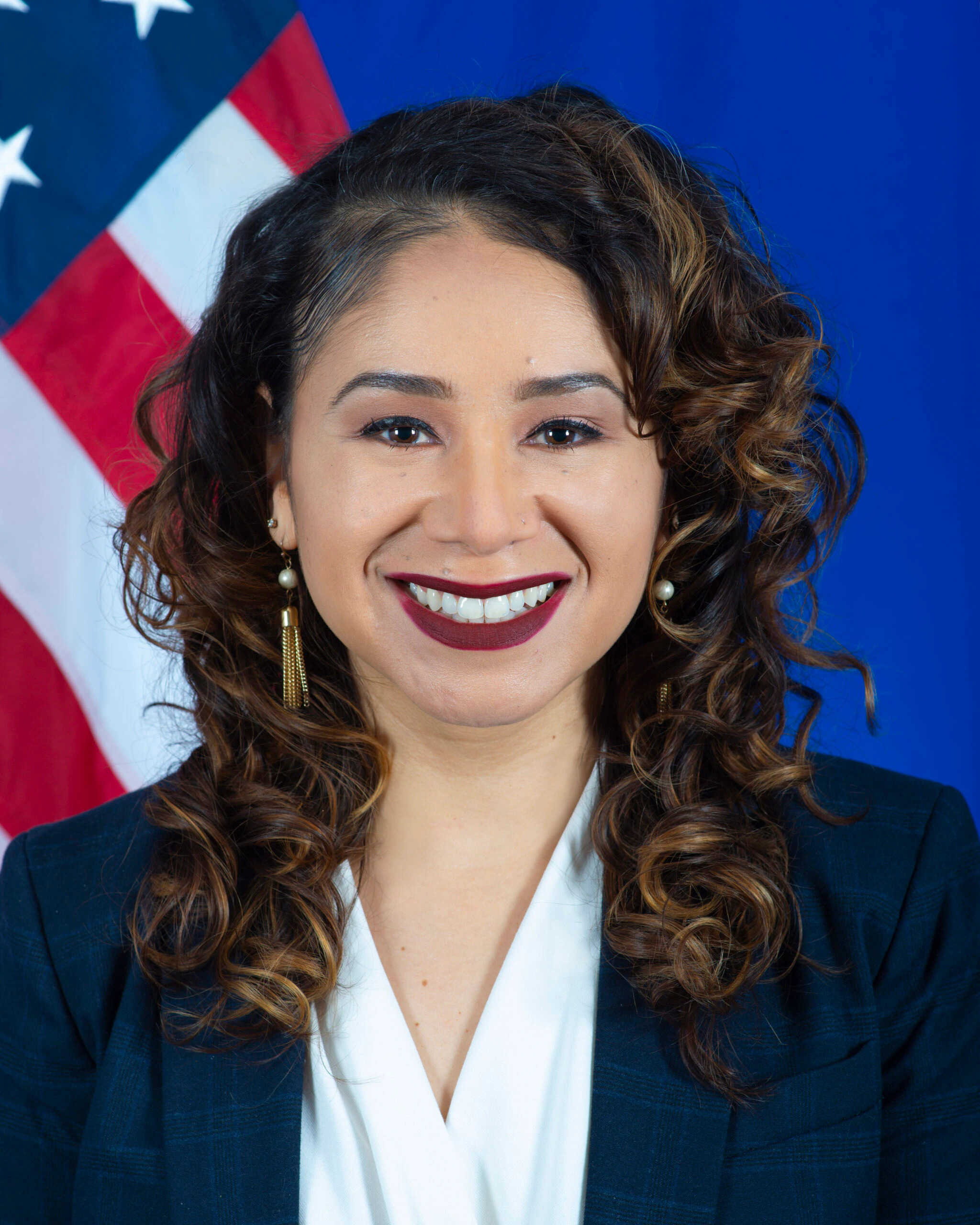 Diplomacy and the Fight Against Racial Injustice: Fireside Chat with Desirée Cormier Smith
February 21 @ 12:00 pm

-

1:15 pm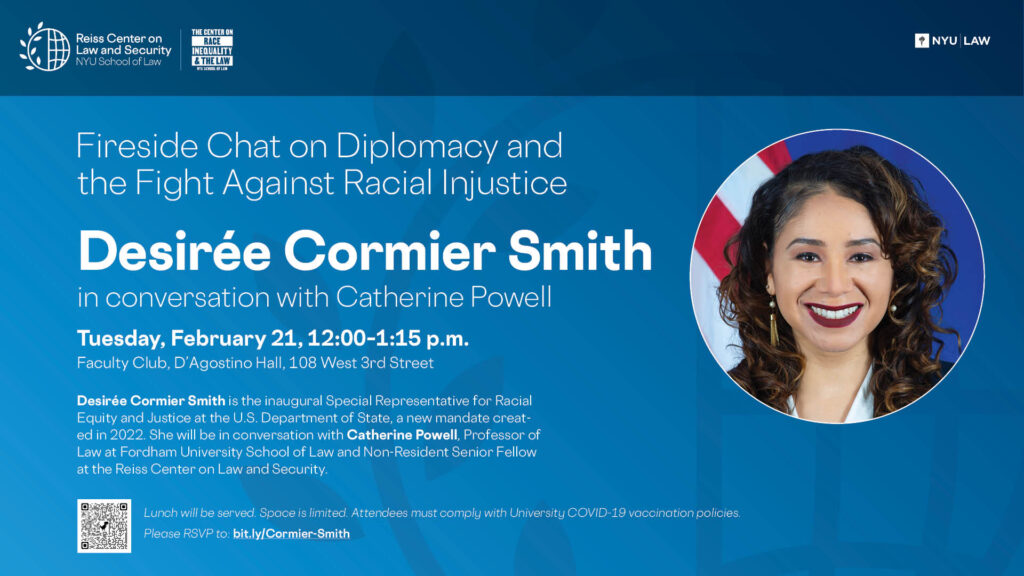 In the summer of 2022, the U.S. Department of State announced the creation of a new Special Representative for Racial Equity and Justice, the first mandate of its kind in the U.S. diplomatic corps. On February 21, Desirée Cormier Smith joined us to share reflections from her experience as the inaugural Special Representative and her work carrying out a mission to "protect and advance the human rights of people belonging to marginalized racial and ethnic communities and combat systemic racism, discrimination, and xenophobia around the world."
Catherine Powell, Professor of Law at Fordham University School of Law and Non-Resident Senior Fellow at the Reiss Center on Law and Security, sat in conversation with Special Representative Cormier Smith.
This discussion was cosponsored by the Reiss Center on Law and Security and the Center on Race, Inequality, and the Law at NYU School of Law.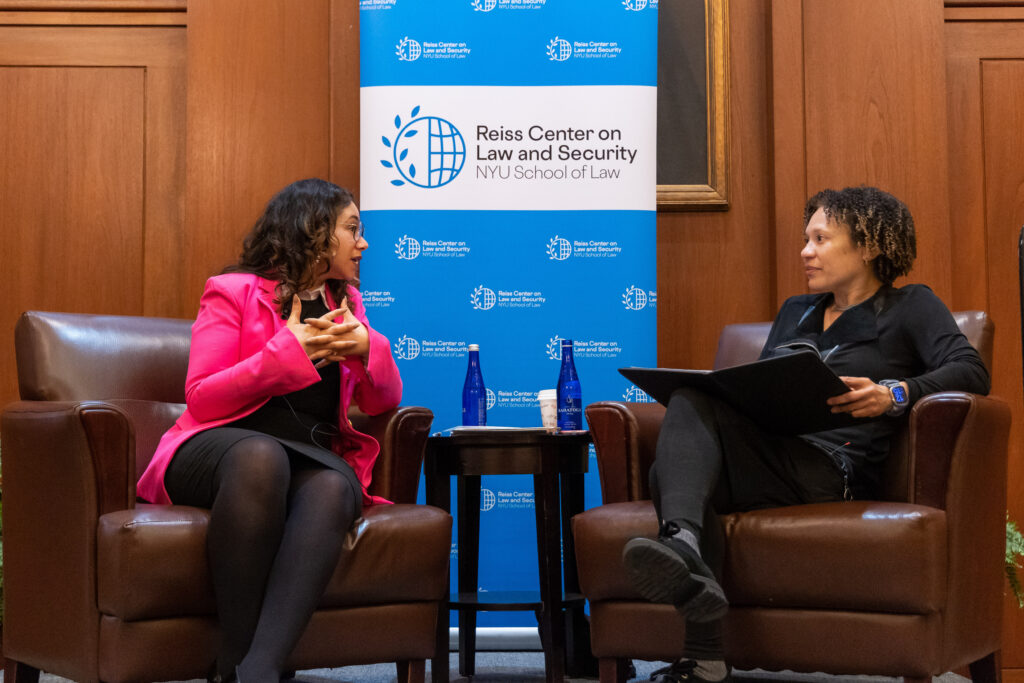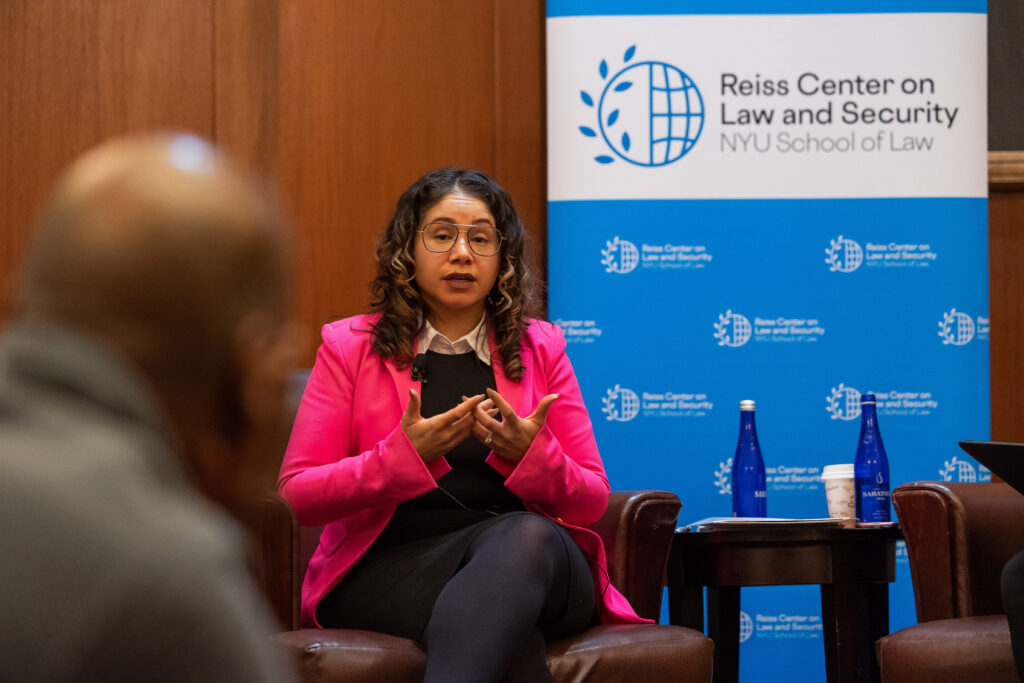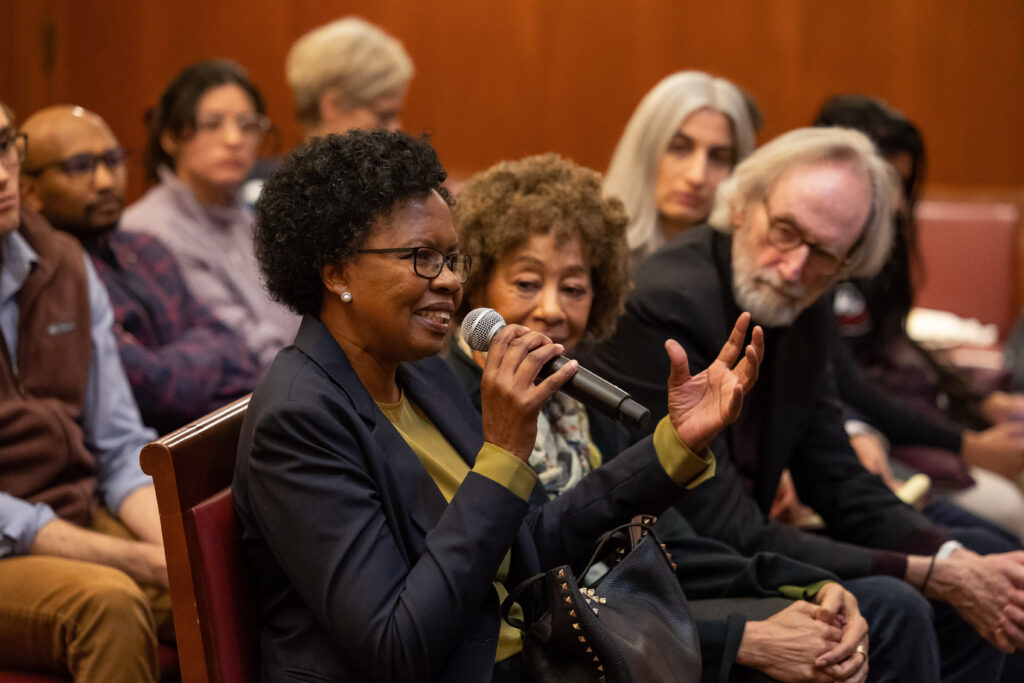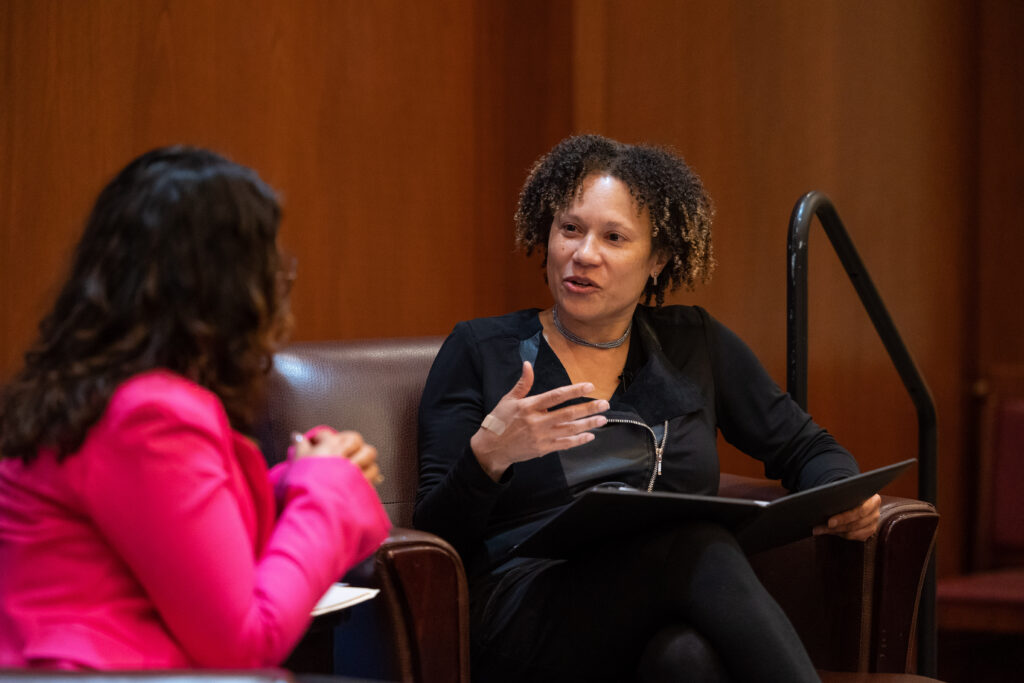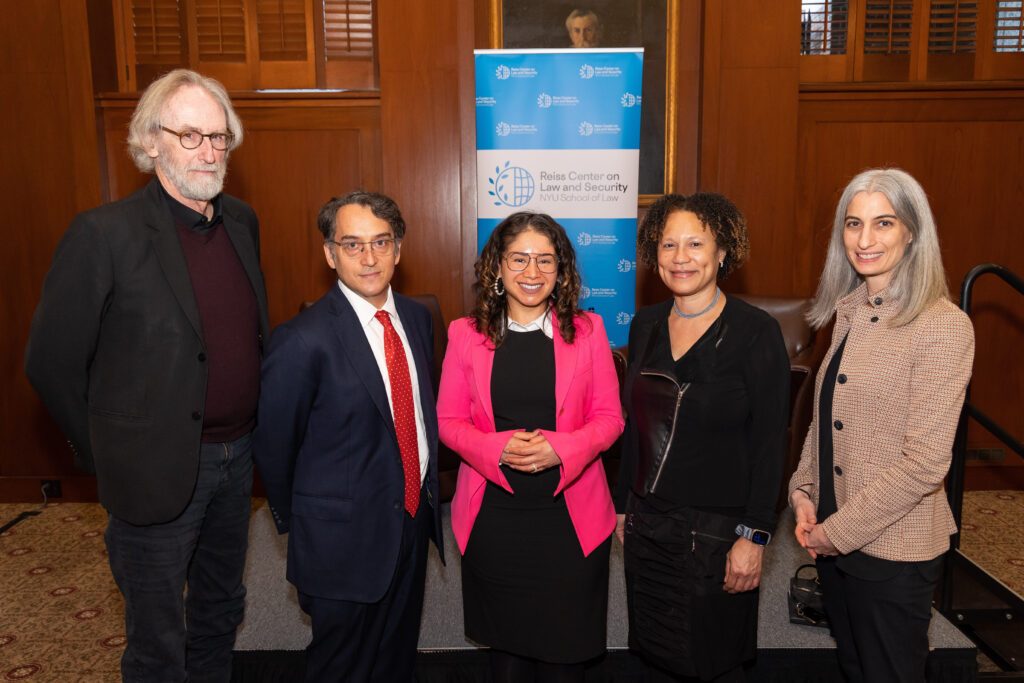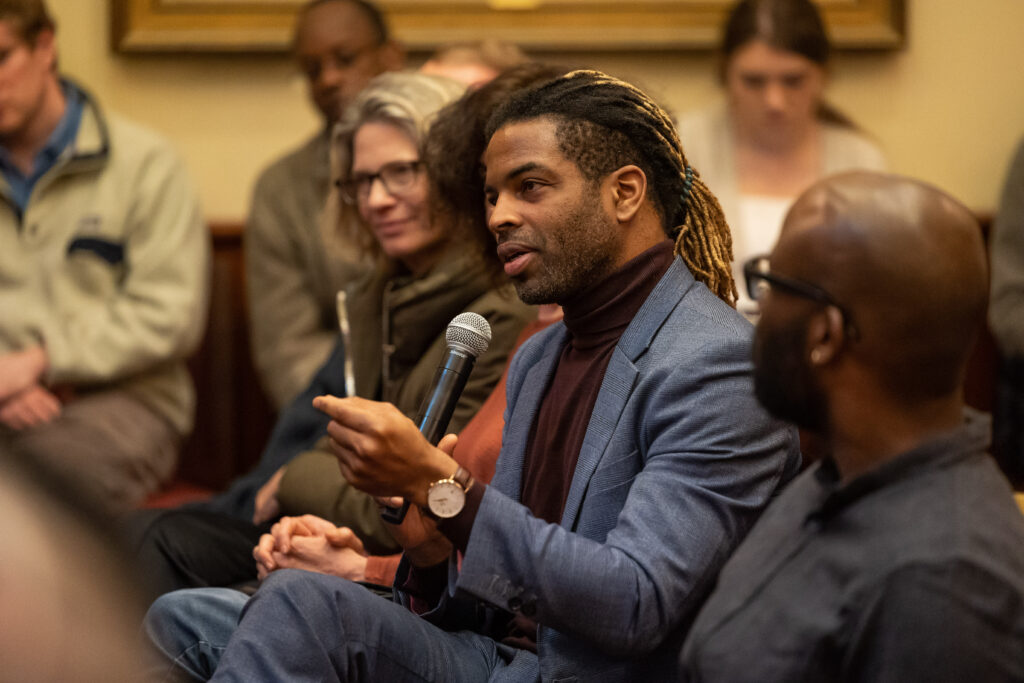 Tuesday, February 21, 2023
12:00 – 1:15 p.m. EST
Faculty Club, D'Agostino Hall
108 West 3rd Street
New York, NY 10012
Speakers
Desirée Cormier Smith is the Special Representative for Racial Equity and Justice at the U.S. Department of State. Previously, she served as a Senior Advisor in the Bureau of International Organization Affairs. She previously worked at the Open Society Foundations as the Senior Policy Advisor for Africa, Europe, and Eurasia, and from 2015 until 2020 she was the Senior Director with Albright Stonebridge Group's Africa Practice, where she advised and assisted private and social sector clients on growth strategies across the African continent. Ms. Cormier Smith began her State Department career as a Foreign Service Officer with assignments in Mexico, South Africa, and Washington, DC. She is the recipient of four Department of State Meritorious Honor Awards and the Thomas R. Pickering Foreign Affairs Undergraduate Fellowship. She was honored by New America as a 2020 Black American National Security and Foreign Policy Next Generation Leader, and is a 2020 alumnus of the New Leadership Council Washington, DC chapter and a Term Member of the Council on Foreign Relations. Ms. Cormier Smith holds a B.A. in Political Science and Psychology from Stanford University and a M.A. in Public Policy from John F. Kennedy School of Government at Harvard University. She is proficient in Spanish and French.
Catherine Powell is a Professor at Fordham Law School, where she teaches Civil Rights and Civil Liberties in a Digital Age; Feminism, Race & the Law; Constitutional Law; and Human Rights. Her current work focuses on race, gender, economic precarity, and emerging technologies. Powell is a Non-Resident Senior Fellow at the Reiss Center on Law and Security at NYU School of Law, and a Visiting Fellow at the Yale Law Information Society Project. Powell's prior experience includes stints in the Obama administration (on the White House National Security Staff and Secretary of State Hillary Clinton's Policy Planning Staff), where she worked on human rights, women's rights, refugees, and technology policy. Previously, she was on the Columbia Law School faculty as founding director of the Human Rights Institute and Clinic. Powell is a graduate of Yale College, Yale Law School, and Princeton's School of Public and International Affairs (master's degree). She was also a post-graduate fellow at Harvard Law School and clerked for Judge Leonard Sand in the SDNY.