Book Talk: Dawn of the Code War
John P. Carlin, in conversation with
Lisa O. Monaco
January 29, 2019 @ 11:00 am

-

12:15 pm
Tuesday, January 29, 2019
11:00 A.M. – 12:15 P.M. 
NYU School of Law
Furman Hall, Lester Pollack Colloquium, Ninth Floor
245 Sullivan Street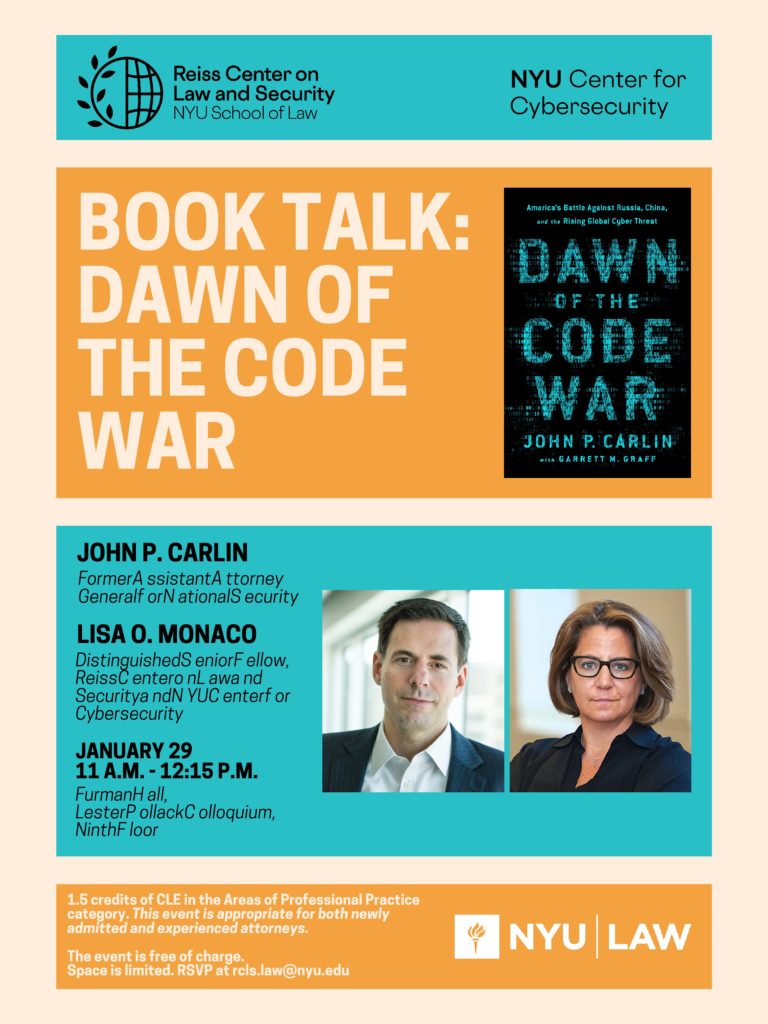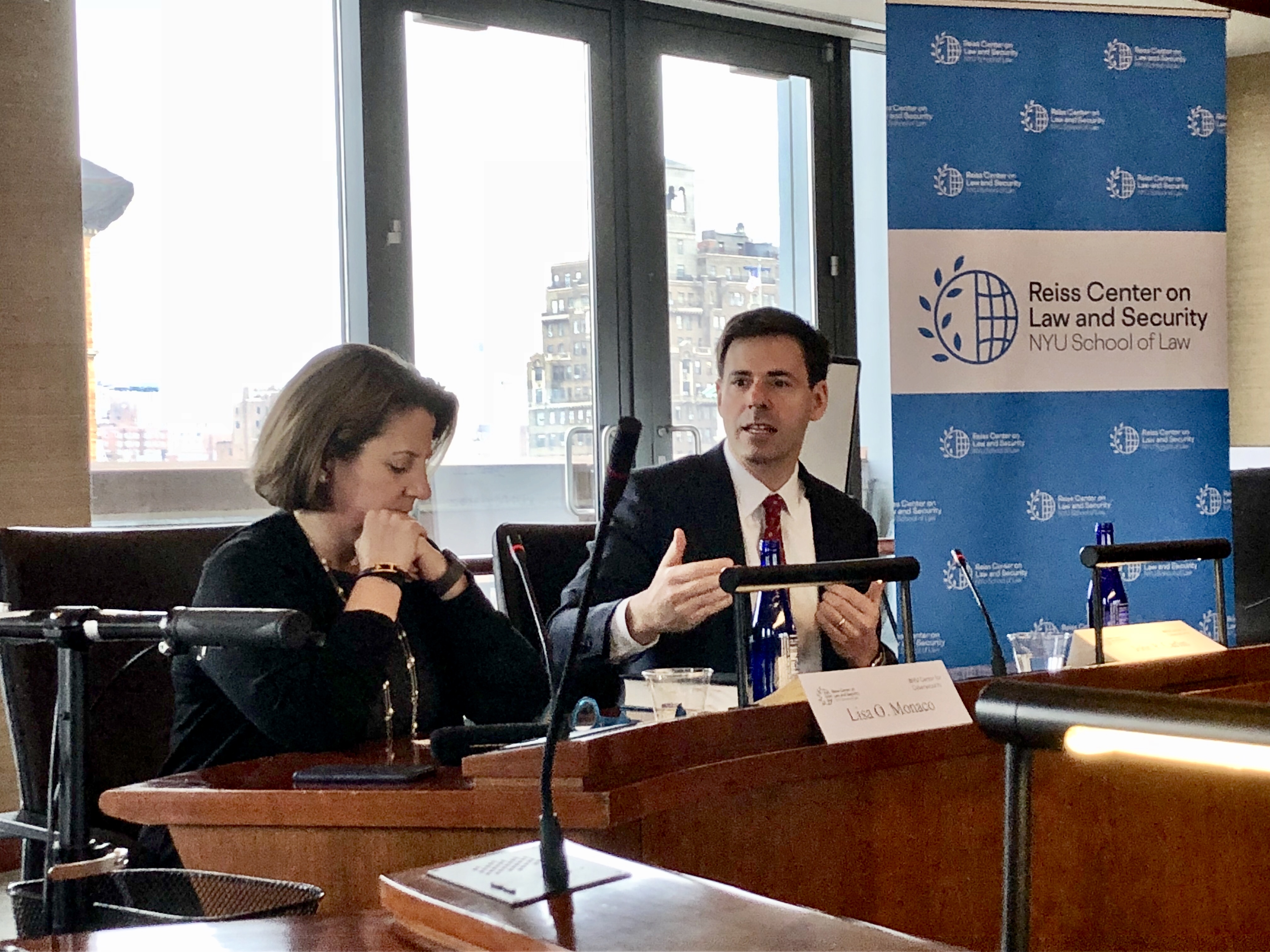 The Reiss Center on Law and Security and the NYU Center for Cybersecurity at NYU School of Law held a conversation with John P. Carlin, former Assistant Attorney General for National Security at the Department of Justice, and Lisa O. Monaco, Distinguished Senior Fellow at the Reiss Center and Center for Cybersecurity, on Carlin's new book, Dawn of the Code War. A question-and-answer session followed.
1.5 credits of CLE were available in the Areas of Professional Practice category. This event was appropriate for both newly admitted and experienced attorneys. Reading materials and full bios of the speakers can be found below.
Overview
John P. Carlin spoke with Lisa Monaco about his new book, Dawn of the Code War: America's Battle Against Russia, China, and the Rising Global Cyber Threat. From PublicAffairs: "The inside story of how America's enemies launched a cyber war against us-and how we've learned to fight back. With each passing year, the internet-linked attacks on America's interests have grown in both frequency and severity. Overmatched by our military, countries like North Korea, China, Iran, and Russia have found us vulnerable in cyberspace. The "Code War" is upon us. In this dramatic book, former Assistant Attorney General John P. Carlin takes readers to the front lines of a global but little-understood fight as the Justice Department and the FBI chases down hackers, online terrorist recruiters, and spies. Today, as our entire economy goes digital, from banking to manufacturing to transportation, the potential targets for our enemies multiply. This firsthand account is both a remarkable untold story and a warning of dangers yet to come."
Bios
John P. Carlin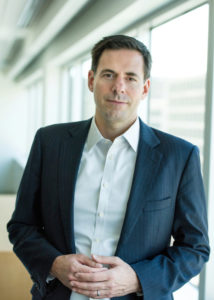 John P. Carlin is the former Assistant Attorney General for National Security under Barack Obama, where he worked to protect the country against international and domestic terrorism, espionage, cyber, and other national security threats. A career federal prosecutor and graduate of Harvard Law School, John has spent much of the last decade working at the center of the nation's response to the rise of terrorism and cyber threats, including serving as National Coordinator of the Justice Department's Computer Hacking and Intellectual Property (CHIP) program, as an Assistant United States Attorney for the District of Columbia, and as chief of staff to then-FBI Director Robert Mueller. Today, Carlin is the global chair of the risk and crisis management practice for the law firm Morrison & Foerster. He is also chair of the Aspen Institute's Cybersecurity & Technology Program and a sought-after industry speaker on cyber issues as well as a CNBC contributor on cybersecurity and national security issues.
Lisa O. Monaco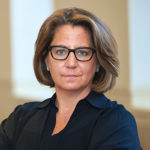 Lisa O. Monaco is a Distinguished Senior Fellow at the Reiss Center on Law and Security at NYU School of Law. Monaco most recently served as assistant to the President for homeland security and counterterrorism in the White House. As President Obama's homeland security advisor, she coordinated policy development and crisis response to terrorist attacks, cyberincidents, and public health emergencies and natural disasters.
Prior to her White House appointment, Monaco spent 15 years in various positions at the Department of Justice (DOJ), including as Assistant Attorney General for National Security, where she established the first nationwide network of national security cyberspecialists and led a division of more than 300 lawyers responsible for national security cases and policy. Before leading the national security division, Lisa was principal associate deputy attorney general—the deputy attorney general's primary advisor on criminal policy, law enforcement, national security, and civil litigation matters. She also served for three years as counsel and chief of staff to FBI Director Robert Mueller III, and before that, worked as an assistant US attorney, including as a member of the Enron Task Force. She began her legal career as a law clerk to Judge Jane Roth of the US Court of Appeals for the Third Circuit.
Monaco is the recipient of the Attorney General's Award for Exceptional Service—the DOJ's highest honor—as well as the Edmund J. Randolph Award, awarded by the attorney general in recognition of outstanding contributions to the DOJ's mission. She is a graduate of Harvard University and the University of Chicago Law School.
CLE Reading Materials
The 'Global Cybercrime Problem' Is Actually the 'Russia Problem' – John P. Carlin
https://www.theatlantic.com/ideas/archive/2018/12/how-trump-can-stand-russian-cybercrime/578185/
Detect, Disrupt, Deter: A Whole-of-Government Approach to National Security Cyber Threats – John P. Carlin
http://harvardnsj.org/wp-content/uploads/2016/06/Carlin-FINAL.pdf