Tom Joscelyn
Non-Resident Senior Fellow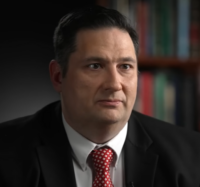 Tom Joscelyn was most recently a senior professional staff member on the House Select Committee to Investigate the January 6th Attack on the U.S. Capitol. He is one of the principal authors of the committee's final, 814-page report. Prior to joining the committee, Tom was a senior fellow at the Foundation for Defense of Democracies (FDD) and senior editor of FDD's Long War Journal, a widely read publication dealing with counterterrorism and related issues.
Much of Tom's research focuses on how terrorist and extremist groups operate. He has testified as an expert witness before Congress on more than 20 occasions, including before the Senate Committee on Foreign Relations and the Senate Committee on Banking, Housing, and Urban Affairs, as well as the House Homeland Security Committee, the House Foreign Affairs Committee, the House Armed Services Committee, and the House Judiciary Committee. His testimony covered a range of complex counterterrorism and foreign policy issues.
Tom is the coauthor of Enemies Near and Far: How Jihadist Groups Strategize, Plot and Learn (Columbia University Press, 2022). He has authored hundreds of articles since he first began writing for the public in 2004. His work has been published by The New York Times, The Wall Street Journal, Politico, and The Dispatch, among others. The Daily Beast has described him as one of "the most trusted authorities on the al-Qaeda network because of his encyclopedic knowledge of terrorist biographies." He previously served as a trainer for the FBI's Counterterrorism Division.
Tom has also regularly appeared on television, including on CBS News, CNN, Fox News, and MSNBC. He appeared in the History Channel's documentary, ISIS: Rise of Terror (2016). Tom has also been featured on CBS News' 60 Minutes.