Lisa O. Monaco
Distinguished Senior Fellow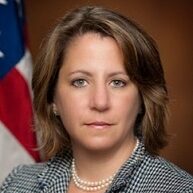 Lisa O. Monaco was a Distinguished Senior Fellow at the Reiss Center on Law and Security at NYU School of Law. She served as Homeland Security and Counterterrorism Advisor to President Obama and before that as Assistant Attorney General for National Security at the Department of Justice, the Department's top national security lawyer. She also worked as Chief of Staff at the FBI under Director Robert Mueller. Lisa was a partner at O'Melveny & Myers and serves as co-chair of the firm's Data Security and Privacy group. She was also a member of the firm's White Collar Defense and Corporate Investigations Practice Group.
As the President's Homeland Security and Counterterrorism Advisor from 2013-2017, she coordinated the federal government's crisis management and response to a wide array of risks and challenges – from cyber threats and pandemics to terrorist threats – and chaired the Cabinet-level Homeland Security Council Principals Committee and advised the President on homeland security issues and crises. She has extensive experience in policy development and crisis management having operated at the senior-most levels of the Federal government as a lawyer and advisor.
Before her service in the White House, Lisa spent 15 years at the Department of Justice and FBI under the Administrations of President Bill Clinton, President George W. Bush and President Barack Obama. As counsel and then Chief of Staff at the FBI, she helped then- Director Robert S. Mueller, III, transform that organization after 9/11 into a national security organization focused on preventing terrorist attacks on the United States. In 2009, she joined the Justice Department's senior leadership in the Deputy Attorney General's office. As the Principal Associate Deputy Attorney General, she was the Deputy Attorney General's primary advisor on a range of criminal policy, law enforcement, national security and civil litigation matters and she assisted in overall management and supervision of the Department, including the United States Attorney's Offices. In 2011, she was nominated by the President and confirmed by the United States Senate as Assistant Attorney General for National Security, the first woman to serve in that position. She led the National Security Division's nearly 400 lawyers and professional staff and oversaw all federal terrorism and national security prosecutions nationwide. During her tenure she made cyber threats a top priority and created the first nationwide network of national security cyber specialists.
Lisa spent six years as an Assistant United States Attorney in the United States Attorney's Office for the District of Columbia prosecuting a range of cases, from violent crime to fraud and public corruption. Her time as an AUSA includes service on the Enron Task Force, a group of federal prosecutors drawn from around the country to investigate and prosecute the fraud at Enron. She received the Attorney General's Award for Exceptional Service, the Department's highest award for her service on the Enron Task Force.
She has received numerous awards in recognition of her public service career including the Department of Justice Edmund J. Randolph Award, the National Intelligence Distinguished Public Service Medal, and the CIA Director's Award. She has been recognized internationally for her work with key allies and foreign governments; in 2017 the President of the Republic of France named her an Officer of the French Legion of Honor.
Earlier in her career, Lisa served as Counsel to the Attorney General. She began her legal career as a law clerk to the Honorable Jane R. Roth on the United States Court of Appeals for the Third Circuit.
Lisa's experience extends to the board room as a member of the board of Accenture Federal Services; Cognosante LLC; and the non-profit organization, Hostage US.
Lisa is also a nonresident senior fellow at Harvard's Belfer Center on Science and International Affairs. She co-chairs the Aspen Institute's Cybersecurity Group, a cross-disciplinary group of industry, former government, Capitol Hill, academic and civil society leaders focused on cybersecurity. She is a member of the Council on Foreign Relations. In 2017 Governor Andrew Cuomo named Lisa to a bipartisan Counterterrorism Advisory Panel for the State of New York. Lisa is also a member of the Blue Ribbon Study Panel on Biodefense. A regular voice in national publications on national security and cybersecurity, she is a Senior National Security Analyst for CNN.