Women Leaders in Cybersecurity: Emerging Technologies
October 3 @ 8:30 am

-

3:30 pm
Tuesday, October 3, 2017
Registration begins at 8:30 a.m.
Event runs from 9:00 a.m. – 3:30 p.m.
D'Agostino Hall, Lipton Hall, 108 West Third St., New York
This event is free and open to the public.
To register please click here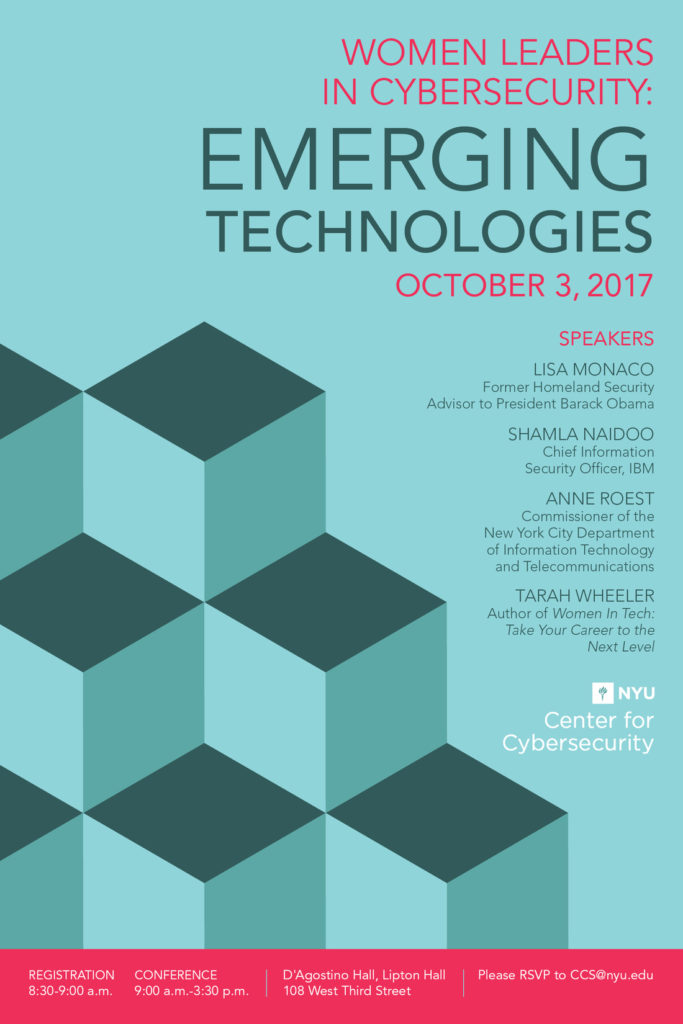 Emerging technologies present intriguing challenges and exciting opportunities that require innovative thinking and diverse perspectives. Join us October 3rd as we take an interdisciplinary approach to exploring critical issues involving:
Security Vulnerability Management
Artificial Intelligence
Blockchain Technologies
The Internet of Everything
Building a Global Cybersecurity Strategy and Team
A stellar line-up of leading women experts in law, technology, business, and policy will join us for a day of fireside chats and panel discussions on these important topics. Women and men from business, government, and academia are encouraged to attend.
As cities and things become more connected, as we increasingly rely on machines that learn from themselves, and as blockchain technologies produce dramatic shifts in the financial and legal sectors, some emerging technologies produce new cybersecurity solutions while others create unforeseen challenges and raise the stakes for those tasked with keeping our data safe. We will discuss key obstacles and opportunities that these emerging technologies present, and explore how the public and private sectors, and academia, can best address these issues.
Featured speakers include:
Lisa Monaco, Former Homeland Security Advisor to President Barack Obama
Shamla Naidoo, Chief Information Security Officer, IBM
Anne Roest, Commissioner of the New York City Department of Information Technology and Telecommunications
Tarah Wheeler, Author of Women in Tech: Take Your Career to the Next Level
We will be sending out a detailed agenda and list of speakers closer to the event date. Please stay tuned, and we hope to see you there!
To register please click here